In Nov 2022, I purchased eSIM by Chunghwa Telecom in their counter at Songshan (松山) Airport, Taipei.
I'd heard that Taiwanese mobile companies are already selling prepaid eSIMs to we foreign tourists. In Songshan Airport, there is one company dealing prepaid SIMs for tourists, it is Chunghwa Telecom (中華電信) .
In Songshan Airport, there are two Chunghwa counters, seems one is run by themselves, another is seems like run by third party. On my first visited counter, it was the third party counter, they told me that they are not dealing eSIMs, I needed to visit another counter.
That Chunghwa Telecom counter in Songshan Airport is located quite near of "Subway", a chain sandwich store. I guess you can find it easily.
In my previous experience, Chunghwa had not accepted credit cards, but in Nov 2022, seems they did. I purchased by cash.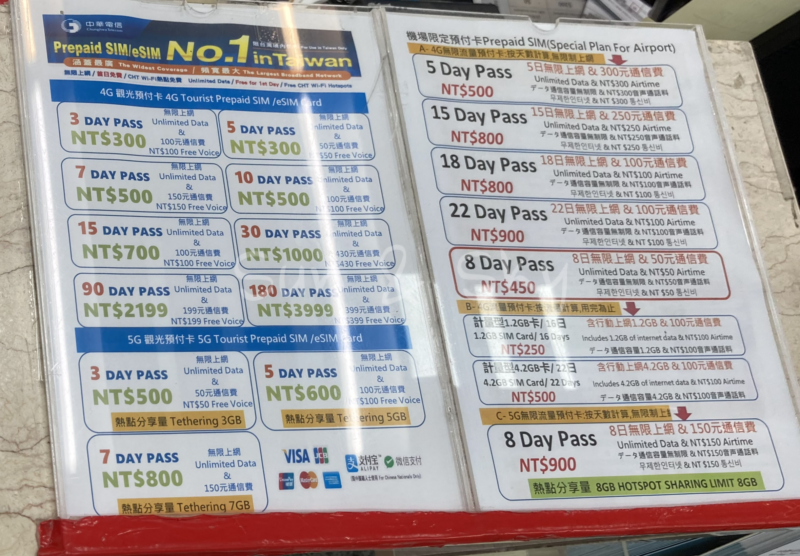 I chose 4G 5 day-pass TW$300, talk and unlimited data. They copy your passport, as required. It is not an anonymous prepaid SIM.
A Chunghwa Telecom agent tried to set up the eSIM on my iPhone, but he could not, it is because he had forgotten to use WiFi. I told him to use WiFi, and finally he could do that. Probably it is because there were few demands of eSIMs for him.
It is the most important factor of eSIMs, that you have no need to touch your regular physical SIMs. A friend of mine lost her regular SIM when she switched her regular physical SIM to prepaid SIM for vacation.
I did not give a call to any numbers, as a mobile date communication, it is quick and stable like physical prepaid SIM. I am satisfied with it.
Sometimes KKday provides you better rate, but I am not quite sure whether the counter allows you to use eSIMs. I have/ had a Chunghwa physical prepaid SIM, I wanted to use prepaid eSIM, I purchased it on the counter.
Not only Chunghwa, but also other mobile counters in Taoyuan Airport (桃園機場), they are not running for 24 hours, under this situation. I strongly recommend to check their open hours by yourself, but when you find you are not able to purchase those authentic prepaid SIMs, try to purchase roaming eSIMs. I purchased one to learn. I admit it was not quite stable like this Chunghwa authentic prepaid SIM, but it is affordable, and the most important factor is it was connected.
Please see also: Roaming eSIM by China Mobile in Taiwan.