My early morning flight in Nov 2016
It is Haneda Airport, that if you need to leave or arrive at Tokyo super midnight or quite early morning.
There are trains to/from Haneda airport, but they are not 24hours. There are some night buses too, but like me if you are not a resident of greater Tokyo area, it can be inconvenient isn't it?
In Nov 2016, my flight to Seoul is leaving 06:20 AM, and it is not pretty much big terminal, I had thought that I need to pass the immigration before of 05:00AM.
I recommend this The Royal Park Hotel Haneda.
agodaThe Royal Park Hotel Tokyo Haneda
What I had thought alternate stay, and the reason why they were rejected
Hotels in the centre of Tokyo
First thought is from Shinagawa where are some hotels.
See also: Shinagawa Prince Hotel
The earliest train of Keikyu Line to Haneda from Shinagawa is leaving 05:15 AM, it is too late. Some hotels near of Haneda airport area serves free shuttle buses.
See also: Toyoko Inn Haneda
But I wanted to sleep as longer as I can, and I do not want to rush.
I opted to stay at airport hotels in Haneda.
There are three airport hotels in Haneda Airport, each are in the three terminals. I had stayed a night in The Royal Hotel Haneda, what is settled in the International Terminal, aka T3.
You can walk to between T1 and T2, what are Domestic Flights only. But from these domestic terminals, you can not walk to this International Terminal. The most affordable one is in T1, but when you need to move to/from International Terminal when the shuttle buses between terminals or trains are stopped, you need to use taxi. Taxies in Japan, it is safe, but not cheap. Stay in the hotel where is safer.
Airside is not my recommend
Another choice was staying at the airside, but I do not recommend.
It was Korean Air their counter is not open for 24 hours, but when I could mobile check in, I did not have checked baggages, I can go through the immigration gate to be at the airside. There is a 24 hours lounge what I can use a priority of my credit card. I will tell you the reason on the bottom, I was smart to not decide to do that.
Royal Park Hotel Haneda, in International Terminal
In the same floor of departure hall if the International Terminal, this Royal Park is settled. It is new one, and you may easy to find it.
Unlike classical Japanese hotels, this hotel is a new, and non-smoking hotel.
In the reception, there were something aromatic oils were diffused. They may ask you to pay extra ¥500, it is the tax for "luxury" hotels in Tokyo (the room charge is more than ¥10,000).
Seemed they serve rich buffet as the breakfast, but there were no time to enjoy, I did not bought.
My room
My room is a double room, the most affordable class, US$150, without breakfast. They have single rooms, but they were already occupied when I booked.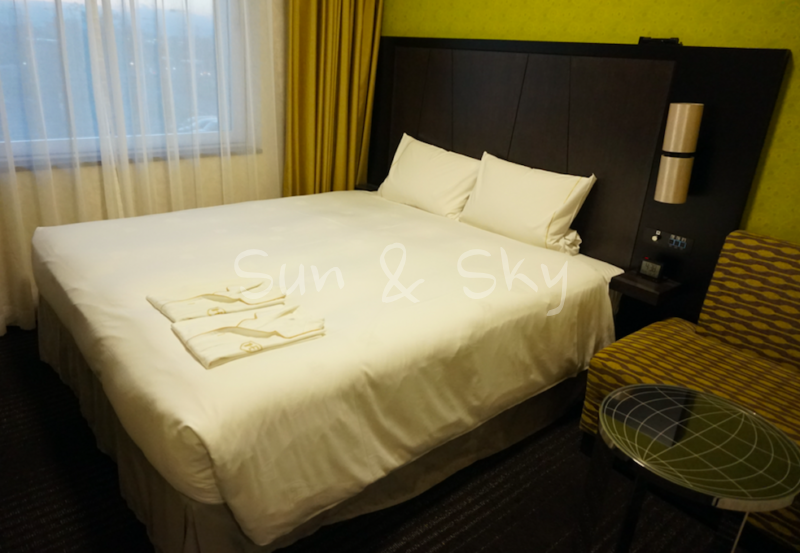 What on the bed are pyjamas, typical Japanese hotel.
One bad point of this hotel was the plugin outlets.
As a Japanese, it is no problem, but if you are from countries not this plugin outlets, I recommend to ready for the adaptors.
See also: Plug Bug World
Due to this room is a double, there were two free bottles waters are in the refrigerator.
There were few tea bugs and coffee, you can boil the water and enjoy.
Bathroom
In this hotel, the bathroom is a little different from typical Japanese hotels.
The bath tub is left of the picture.
Things are so clean, and shampoo, conditioner and shower gel are by Mikimoto.
Tap water is notable.
The tap water have scent of woods, because in this International Terminal, they use wooden water tanks. Of course it is in Japan, unlike other countries, we can drink tap water in here Japan.
Noise
It can be due to where my room was located. As I remember, this is a site from my window.
It is near of the entrance of this floor, it means it is near of the elevator hall.
I reunited with friends in Tokyo area, and fun, I returned this hotel at 22:00 PM. Wanted to sleep at 23:00 PM, but I was forced to wake up English speakers are talking loudly on the hallway on 02:00AM.
It is the very crowded hotel in international airports.
agodaThe Royal Park Hotel Tokyo Haneda
Super convenient to be at the counter
It was Korean Air, I wanted to use mobile check in 24 hours before of the flight, but I could not do that. After I went to the Airport, and wanted to use an automatic checkin, but the machines does not work. There were a grand service staff, and asked her, but she could not work for my ticket, and she also could not find the reason.
The next morning, before of my flight, I tried to do online check in again. Once I could have use the online/mobile check in, I would have needed to wait for the long line at the counter.
It was the same floor with the hotel, so convenient to go.
I asked the ground staff on the counter, in this time, she told me the reason, it was due to the changing the ships.
Oh, it happens.
I had thought that I was lucky that I booked this hotel, beside not staying in the airside. The hotel was fully occupied on that night, it is inconvenient to go to the hotels in the domestic terminals. I needed to stay at the departure/arrival hall, what may be less safer than the airside.