Some of you may fly to your destination country in Asia with transit to other countries, like to Japan with transit in Seoul or Hong Kong. In such case, Thailand's  prepaid SIM, AIS SIM2Fly works pretty well.
4GB in 8 days is enough.
Benefit of AIS SIM2Fly
A huge benefit is that you can use this SIM in several countries over Asia, including Mainland China, as of July 2018.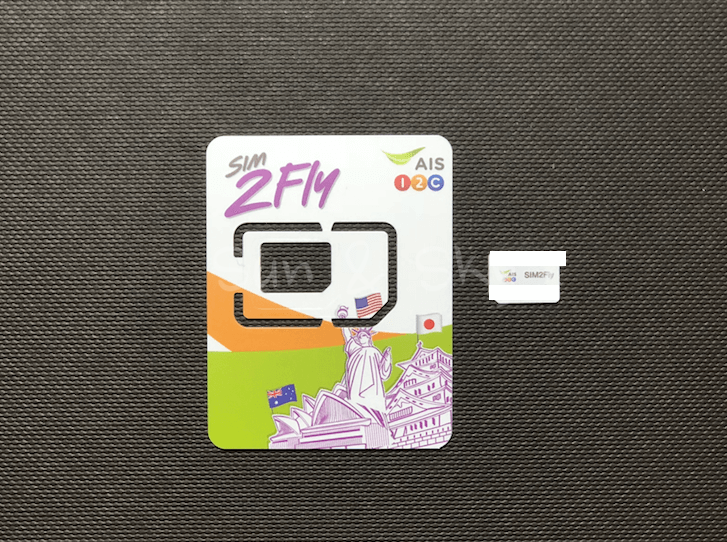 3- in one style SIM.
This is a round-up Asia SIM, insert and turn your "roaming" on, now you can connect to the net by your cellphone.
You can buy a SIM in each airports, but save your time especially when you are in transit. This is incredibly convenient for people travelling across multiple countries over Asia (including Australia) in one trip.
How to use the AIS Sim
All I needed to do is place the SIM into my cell (both in iPad/ iPhone, or Android). In Japan, it is roaming to SoftBank, and in South Korea, it is to SK.
I was also able to use this SIM in Taiwan, where it connected to Taiwan Mobile. In Hong Kong it does to CSL. 
SMS from AIS
You may get many SMSs from AIS 🙁
When you see a message indicating that "Your balance is insufficient…", according to the seller, it means you need to top-up the balance to continue using the SIM in Thailand. You are unable to use this prepaid SIM without topping up in Thailand.
I received SMS notifications when the communicators changed. For example:
Caught SB in Japan
Caught TM in Taiwan
And back to Japan to connect to SB
Simply ignore them, if you have no plan to keep using this SIM.
Wait for mins to catch the connection
I do note that it took it's time to connect in a new area. I turned on my Xperia / iPhone just after my flight arrived at the airport, but I was waiting several minutes for it to find it's connection.
Some SIMs are not stable
Talking with some readers of mine, some SIMs in this AIS SIM2Fly just do not work well. They are functional, but unstable. This can be because your SIM is roaming, or due to the countries you are visiting. Also, this is a prepaid and disposable SIM.
I recommend being prepared to find alternate way to connect to the net, like the local SIM in your destination country.
See also these articles for local SIMs in below.