In June, 2017, I went to Bangkok. The flight leaves from Narita at morning, and I had to stay in the Tokyo-Narita area before the flight.
I chose Nikko Narita, a small, old, but requisite minimum hotel for transit.
agodaHotel Nikko Narita
Room
This is my room. The most affordable rate, US$80 🙂 It's not very big, but it is more than enough for me.
The bed is a single. On the bed, there is a pajama, which is often offered in Japanese hotels but they are not for you to take away.
The electric kettle is already filled with water. This is very typical Japanese service, but recently I decided to not boil "that" water, I will change it for fresh water from the tap. And generally in Japan, the tap water is safe to drink.
There is not a large selection of teabags, just the "essential" items. As I said, this hotel is not fancy, but the bare minimum for transit.
Bathroom
This is not my first time staying here, but I just remembered the bathroom is bigger than the average.
The bath amenities are also simple. There is also a bathtub :))
The shampoo, conditioner, and body soap, are by uminela, Shiseido.
There is a bulletin hair drier too.
Plug-in outlet is not multi-type
For me, a Japanese tourist, this is not problem, but if you are from other countries, where it is not this "A" type, it can be inconvenient.
The number of the plugs is not enough if you want to charge many devices at once.
Equipment in the hotel
Coin Laundry
I needed to wash my clothes during my stay and luckily on the 3rd floor, there is coin laundry facilities.
It was only one person's clothing for one night, so, I chose a plan for light wash and dry, this equaled 100 mins per ¥500 and it was all inclusive. I got the laundry detergent, clothes washed, and tumble dried.
I picked it up 2 hours later. So convenient 🙂
There is Lawson, a convenience store
In the package I bought, breakfast was not included and there was no time to go to the restaurant to eat.
There was a Lawson in the same building as the hotel, so I just bought some bread and snack for the evening. And also I think there is an ATM what accepts your bank cards issued not in Japan (but to my sorry, I am a Japanese, I have only issued in Japan).
Of course, you can buy your breakfast at the canteen, but the price is ¥2000, and there is another "one coin" (¥500) plate too, but it starts at 7:00, and that was too late for me.
Pre-paid hotel ― simply hand in your brown package with the key card to check out
This hotel is very busy with most of the guests transiting, like me. This time I bought a pre-paid plan. For guests who pay before they arrive, they get a brown package.
According to the hotel, when you check out, simply turn in the key card with this package. I have stayed at some transit hotels where the queue to check out/ check in is very long. This is a really convenient solution.
Access
I went to Narita Airport 2nd Terminal (Departure Hall) and the 33rd bus stop is the Nikko Narita hotel.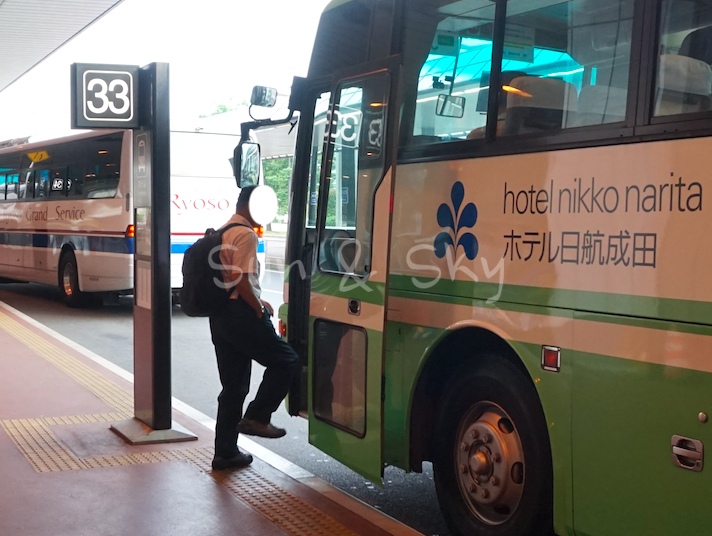 From the hotel to the airport
Every 15 mins the shuttle buses arrive to bring us to the airport. They are always really crowded.
So, what happens if you are waiting in line, but there are no more free seats? Of course, there are always taxis, but if you want to use the free shuttle buses, please make sure you allow for extra time.
Note that you cannot take this shuttle bus if you do not stay at this hotel (and near this hotel, there is nothing special).