In Nov 2020, Sky stayed a night in Nara Hotel, one of the oldest hotels in Japan. It was a fantastic night.
There are 9 classic hotels in Japan, "classic hotels" means hotels built before World War 2, and maintaining the condition. Nara Hotel is one of them.
Room
My room is "Standard Double, Park View", in the main building. Nara Hotel has two buildings, and main building is non-smoking, and old.
How lovely… The bed is a little bit softer than my preference.
Tulip lights are so cute.
For my black eyes, Western hotels are too dark to work, and lights in this room is also too dark for me. Probably not for working/ studying, but for relaxing.
Windows are double glazing, but I heard car noise at night. This is well maintained hotel, but not new.
My room has two sides windows, it should be a reason why I heard car noise. This is the very a part of "Nara Park", it includes famous temples (Todaiji & Kofukuji) , shrine (Kasuga Taisha), and Nara National Museum.
It is Autumn, it is a beautiful site. You may see road on the picture above.
The pond in the picture below, it may be a historical garden near of the hotel.
Bathroom is refurbished, but I need to admit that it is…small.
Bath amenities are by "Tea Tonique" by Miller Harris, it was so posh scent.
Building
This is the entrance gate. I took a bus from Kintetsu Nara Station to the hotel, those days there were no shuttle buses. I needed to climb up the slope.
Nara Hotel is located on a hill top.
It is a main building, where I stayed.
Nara Hotel was built & started the operation in 1909.
It is located near famous shrine & temples, some designs are imagine from those old temples/ shrine. The accessories in the handrails is inspired by Giboshi (擬宝珠), it is often find in temples/ shrines, also sometimes placed at important bridges.
The light design is Toro (灯篭).
This balcony design is inspired by shines. You can see a black head something, it is the very Giboshi.
I like the font design of the plate too.
The piano was played by Dr. Einstein. THAT Dr. EINSTEIN!
Mikasa, the main restaurant
I took a dinner in Mikasa, the main restaurant. I don't show you all the dishes, the French course is not a big quantity, it is a posh.
Posh & tasty…
The quantity is not big, but it was too much, I could not eat the famous breakfast :(.
Gardens
Nara Hotel has a small garden.
It is not enough.
Also at the reception, you may be able to ask a ticket to visit lower garden, Daijyoin (大乗院).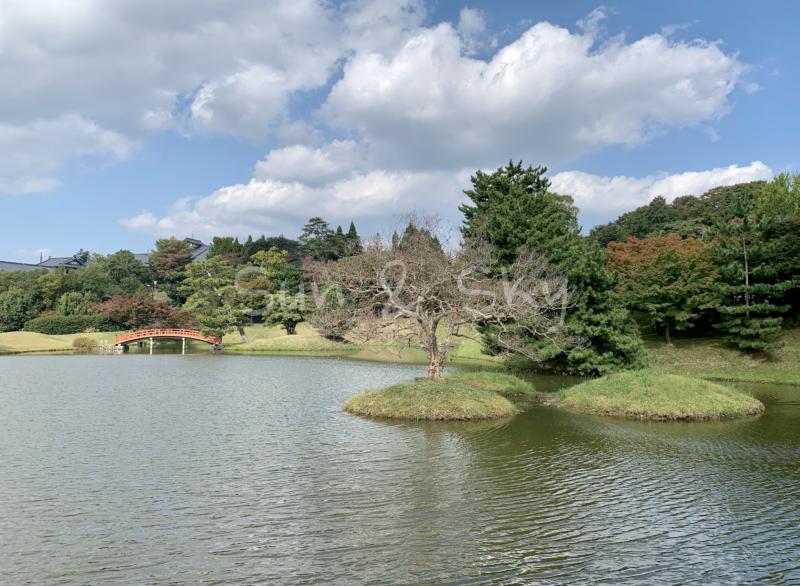 You may be able to see buildings on the left in the picture above. It is Nara Hotel.
Quiet and beautiful old garden. This is the very what I saw from my room, (I think).