With the rising accommodation prices of business hotels in Tokyo, I looked for a better alternative place to stay. In March 2015, I chose to stay at Yokohama for one night, on my way back from Hong Kong. My hotel of choice was Hotel JAL City Kannnai Yokohama.
"JAL City" is a minor brand of Japan Airlines (JAL) chain of hotels.
agodaHotel JAL City Kannai Yokohama
This hotel is fairly easy to find, near of the subway station, Nihon Ohdori located in the office zone with Yokohama Stadium.
Hotel JAL City Kannai Yokohama
The rate was approximately USD80 per night, which was fairly reasonable.
Check the price now! agodaHotel JAL City Kannai Yokohama
As mentioned, I stayed here on my way back from HK. During my stay I saw a  group of Chinese tourists. I guess they were from the mainland, from the way they spoke.
The hotel offers breakfast too, but I opted not to buy.
The hotel staff are kind and polite.
My Room
My room is a twin room.
Nice!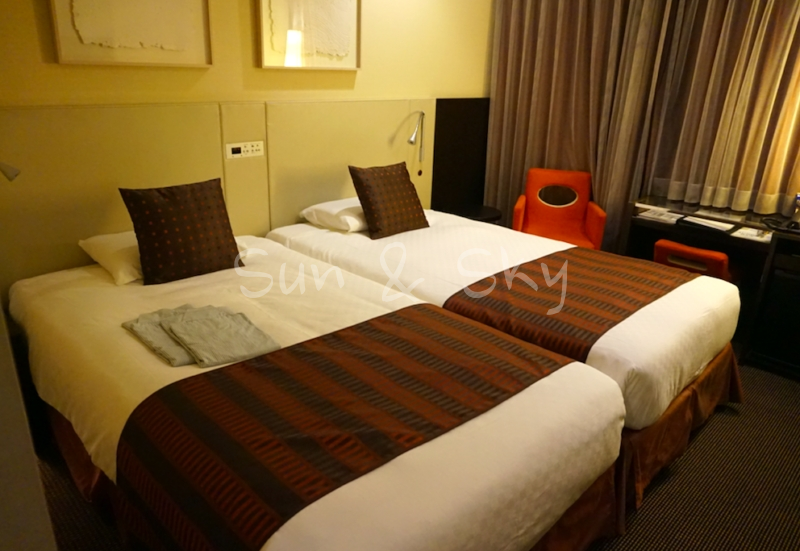 There was boiler and air cleaning humidifier too!

As you know, air pollution here is relatively lower compared to Hong Kong, but I often see air cleaners in hotel rooms recently. Anyway, i do not stay so much at luxury hotels.
Here is a desk.
Bathroom
To be honest, I boiled water using the plugin outlet this bathroom 😀

Amenities are generally good, except that there was not enough number of plugin outlets.
Sometimes when you see a group of tourists, you expect them to hold parties at the hotel rooms, which can be noisy. Good thing I did not hear any noise at all, my room was pretty quiet.
It can be convenient for sightseeing too
During my stay in HK, I had planned to do some sightseeing, mostly in Chinatown and Old port area, it is walkable from this hotel, but surprisingly, it was 3C degrees in the morning. Typically, the temperature in HK is about 30C degrees in March/ April. I was not ready for the chilly temperature, so, I ran to the station back to the airport and went home.
Location
From Haneda airport, take the Keikyu line to Yokohama Terminal, then change trains to ride the subway, going to Motimachi/Chukagai. Then get off at the Nihon Odori station, office zone. From there you can walk a few minutes to the hotel.