Why I chose this Chateau de China Hotel Hualien
In May 2018, I went to Hualien, Taiwan. 3 months before of my being at Hualien, they had big earthquake. I had booked this hotel before of the quake, and It was shocking to see one hotel in Hualien was crushed down, but fortunately this Chateau de China Hotel Hualien was safe.Agoda Chateau de China Hualien
Seemed they accepted the Red Cross I had thought this hotel might be safer among hotels in Hualien. I kept my plan to visiting Hualien and stay in this hotel. Originally I chose this hotel because looked nice, and had nice experience in Chateau de China Hotel Kaohsiung. See also: Kaohsiung: Chateau de Chine Hotel Kaohsiung is large room in affordable rate!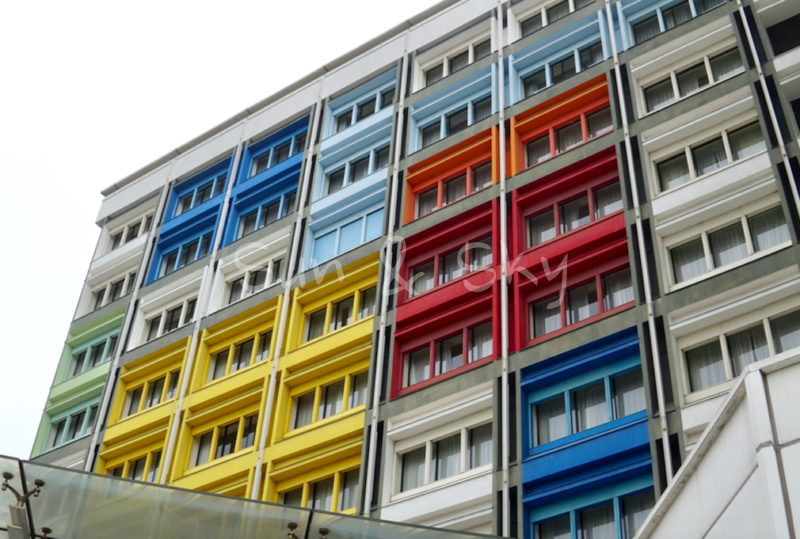 This hotel is located in quiet area, not downtown. There are the courthouse, museums, and library. I do not like being at Taiwanese night markets. I liked this location. And I could see the Pacific Ocean from my window.
To going to this hotel, and from this hotel to the Airport, I took optional tours. From Taipei to this Hualien I took a car, and from this hotel to Hualien airport, I took a bus tour. See also: Travel to the local area in Taiwan like Hualien? My recommend is optional tours
My room
Let me show you my room.
On the round table there were not welcome fruits, but sweets, it was served everyday. The bed is big enough for one person.
Seems the hotel is not new, but well maintained. Indeed I need to let you note that pay attention on the window if you are with small kids.
There are two windows, glasses and storm shutters, you can open them fully. If you are with kids, please leave the tables and chairs from the windows.
Here is my windows view. There is the Ocean on the upper left. When it is sunny, it can be nice view.
Here is my bathroom.
There is a bathtub, but you know it was not easy to find the way to use the shower. Wired.
Cuisine
I bought breakfast, and it was not bad. You can choose both Western or Chinese. My favourite was Sunfish (in this picture below, you may see meat on the cabbage).
I had thought that to eat something in the hotel even at the night. Indeed I should have better to book the Chinese restaurant 3 days before! Another is the same hall with the breakfast, all-you-can-eat style and NT$800. For my appetite, it was too much, I chose a room service. I asked them to give me a wing of Chicken, they told me that it was already sold out in 17:30. Oh. Guess they do not want to work for NT$300, I understand (but the attitude is a kind of passive offensive, they should set minimum order). I asked them a fried chicken with a berry source, NT$500 for one plate.
The taste was nice, but it was a little shocking that the waiter brought to my room without wrap or cover. It was not my first time to order room services, but it was the first time to do in Taiwan. I do not know whether it is common in Taiwan or not, it was…not fantastic.
Supermarket & bakery nearby
There is a supermarket (全聯福利中心) near of the hotel, I bought frites. Totally less than NT$100. I was satisfied.
I also bought some breads in front of the hotel ("萌パン bakery", they use Japanese in the name of the store), located to the next of 7-11. 7-11 was also convenient for my staying.
It was 17:00, probably they wanted to close. I bought the mango pudding, and totally more than NT$100. They gave me a jelly, for gift for person bought more than NT$100. The pudding was not too sweeten for me, I recommend to buy it. (The jelly was… a little bit sweet for me, and even in Japan, I feel jellies buying bakery or sweets stores are too sweet for my taste.) The breads are typically Taiwanese bread, like in Japan (and in my experience, in HK too) they like soften breads. The tastes were "familiar" with my Japanese tongue. But my favourite is German style hard breads.
Also, on the street, I found a burger shop "Honya", and ate.
Facility and service
Seems they have a shuttle service between the Hualien Airport to this hotel (I did not take). And there are some paid tours like Whale and Dolphin watching (I did not use).
There is an outside pool, it was too cold to swim for me.
Sadly, seemed there are no coin laundries and driers. If you need, you need to go 2 blocks. Hmm, it is inconvenient for me.
Totally to say, I think this hotel is safe and nice to stay.