I often visit Taiwan.  In 2017, I went there twice. On both occasions, I got these notifications on my cell phone.
Cases
Case1) Recordable heavy rain.
2nd of June: It was the final day of my stay and there was very HEAVY rainfall. At the airport, there were huge delays due to the bad weather (fortunately my flight was on time).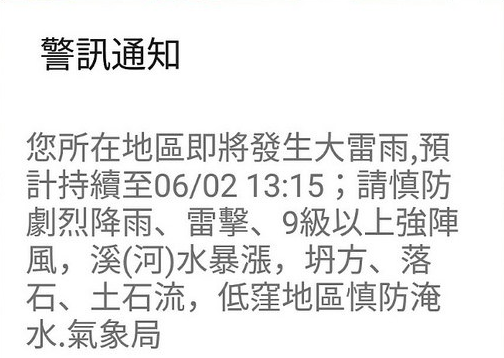 Case2) Earthquake, Grade 5, M5.5
22nd of Nov: I was in Chiayi and I got a notification of a quake, M5.5. I was alone and the hotel was shaking.  Nothing bad happened, but I was so scared.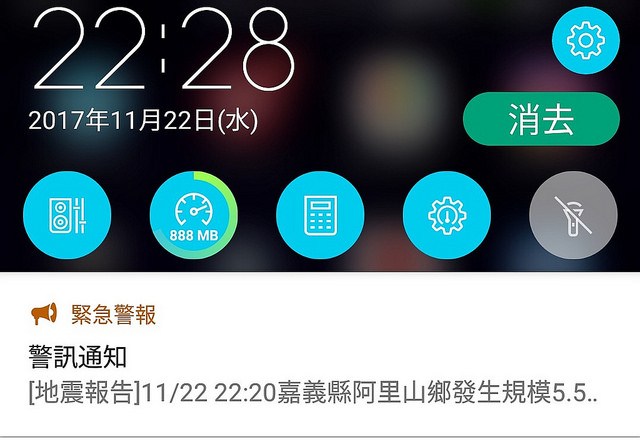 This happens. It is Taiwan, after all.
I guess not everyone reading will be able to understand written Chinese, but you can guess something happened in your area. You can start searching what people are saying through SNS or I can give you a link to the Taiwanese Weather Bureau and you can search for what is happening.
Internet is a strong tool to save your life.
How to prepare, as a non-Chinese-speaking independent tourist?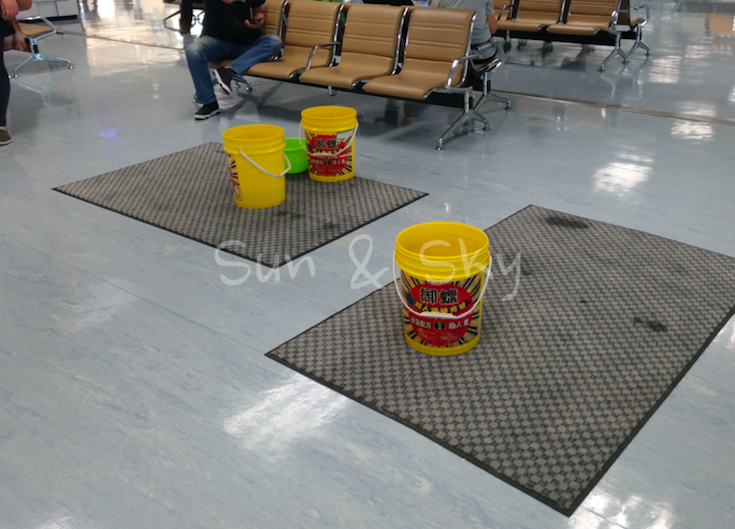 (June 2017, Airside of Taipei Songshan Airport)
I am not good at speaking/understanding spoken Chinese, but I can read it (not perfectly, but I can get by).
I wouldn't say you need to speak / understand/ read Chinese to prepare to visit Taiwan.
Can a good hotel save your life? No promises, but windows are important, I am sure
At first, stay in hotel rooms with windows.
I note that even a high class hotel can have problems, such as the Marshal Hotel in Hualien that collapsed due to the earthquake in Feb 2018.
I strongly recommend staying in hotel rooms with windows. It is easy to see on YouTube that people were rescued through windows in Hualien.
In Taiwan, there are so many of not only cheap hotels/hostels, but also middle class hotels that have no-window rooms. Please avoid these hotels.
There is an affordable class hotel with window in Taipei.
See also: Hotel Relax 5
Also, I recommend staying at hotels with 24 hour front desk service. If you are scared, you can ask them.
Local SIMs
Secondly, buy a local SIM to get these notifications.
Of course, it may also be up to your cellphone's capability. My ASUS ZenFone 3, which I bought in Japan, got the notification, but my Sony Xperia Z5 Compact which was imported from Hong Kong did not receive these notifications.
It's my Chunghwa, changed 3G to 4G in Taipei city (not bought in Taoyuan airport).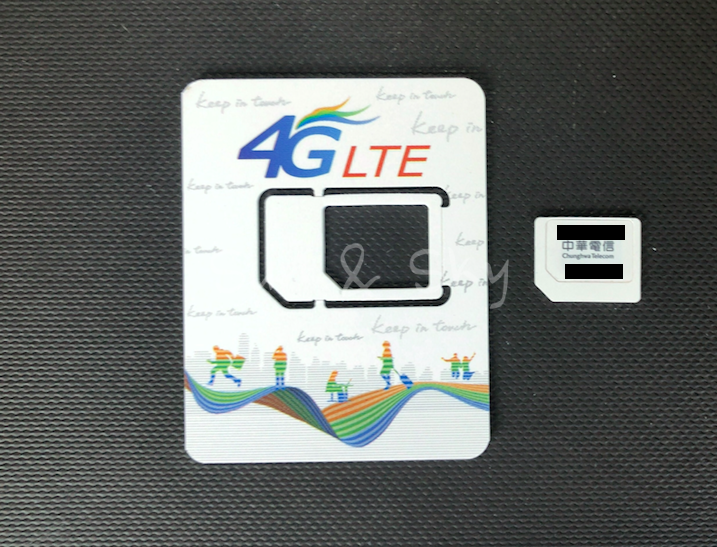 It is very easy to buy a local SIM in Taiwan. You can buy one not only in the airports, but it is also possible to visit bigger stores of telecommunication companies, Chunghua(中華電信), FarEasTern (遠傳電信), and Taiwan Mobile (台湾大哥大) to make your purchase.
Make sure to remember your passport when you go to buy your SIM!
KKday allows you to preorder a Chunghua tourist SIM, buy you can only pick it up at Taoyuan Airport. It is a Xdays unlimited use of data type of SIM. It can be helpful if you want to see live channels on YouTube (I will tell you about this later in this article), even if the WiFi is not working well.
KKday Taiwan Unlimited 4G Pre-Paid SIM Card
I have my own SIM of Chunghua, and have not bought THIS SIM, but the one I keep using is Chunghua. It seems that you cannot extend the expiry date when you buy in the airpots. If you do want to extend the expiry date, you should buy the SIM in the city. But, if you are only visiting, it can be useful. See how affordable the price is.
Note: If you want to get SIMs that you can extend the expiry date, try to find FET or TM at the airport. My TM SIM was bought in the city centre, but FET SIM was bought in Taiyuan airport. I can extend the expiry date of both, too. (I prefer TM due to being able to get the SMS in Japan)
Roaming SIMs
I had previously mentioned about the useful roaming Thai SIM, AIS SIM2Fly. I do not think you will get weather notifications with this roaming SIM, but if you are rounding Asia, this SIM is helpful to keep yourself connected the net.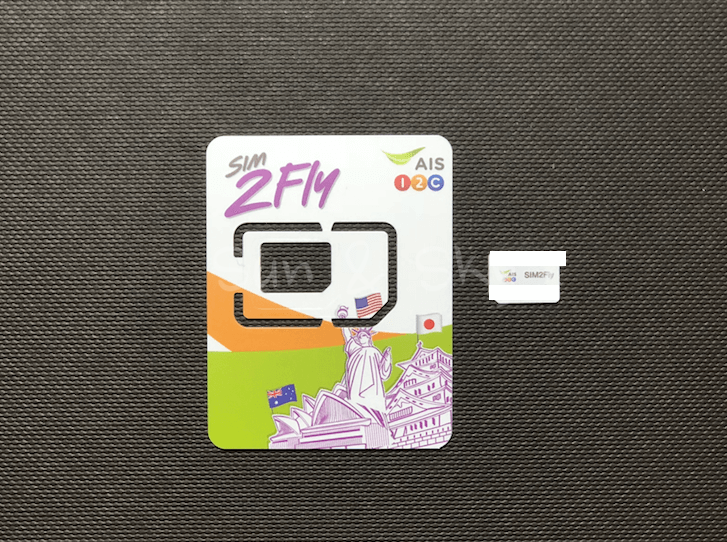 As of April 2018, it seems that you cannot use this SIM in China, but you can continue to use it in Japan, South Korea, and Hong Kong where you may visit/transit, if you are traveling from out of Asia.
In Taiwan, this SIM connects to Taiwan Mobile.
See also: AIS SIM2Fly
Websites that are helpful
Here is a link to the Central Weather Bureau. There is also an English translation of the site, so, please remember to check here for updates regarding nasty weather.
・http://www.cwb.gov.tw/V7/index.htm
There are some broadcasting companies air live channels on YouTube as well. Before I give the links, there are two things you should be aware of:
1) Local/roaming SIMs.
I know it is your style, I have met many independent tourists without local SIMs or roaming SIMs. I will say again and again, in my experience, it is risky when you travel Taiwan alone. Local/roaming SIMs are so helpful, especially when the WiFi in your hotel is weak, or not working at all, or when you are out, you won't have to hunt for an unlocked WiFi connection.
KKday Taiwan Unlimited 4G Pre-Paid SIM Card
2) VPN
Some live channels on YouTube are blocked by IP address. If your SIM is roaming like the AIS SIM2Fly, you may need to change your IP using a VPN even when you are in Taiwan. My recommendation is to use the paid version of Hotspot Shield VPN.
See also: Hotspot Shield VPN
Finally, here is a list of live channels on YouTube: Here is examples.
SET

TTV

Formosa

CTV,PTS, and 東森 also have channels, some are not able to link, the other often change.