In Oct 2018, I had a chance to visit Gaomei Wetlands (高美濕地), Taichung.
Kkday Day Tour from Taipei: Taichung Gaomei Wetlands and Rainbow Village
Note: It was a monitor tour, sponsored by KKday for my Japanese travel blog, I had already written about.
The tour bus brought me to Taichung from Taipei Station. It was a one-day return tour, and the bus dropped me off at the final destination, Taipei Station.
I think that the Gaomei Wetlands were just as impressive as promised. I will tell you about the tour at the bottom of this article.
What I saw and felt
The tour bus brought us to the Wetlands where I saw a unique bridge, near the wind power mills.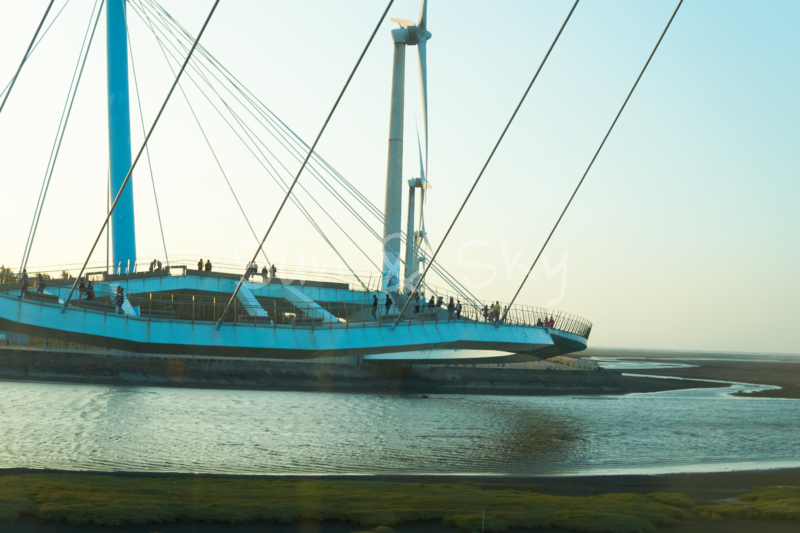 According to the bus guide, it takes 15 mins to walk to there from where the bus was parked. I decided not to take the walk to this bridge.
It was a weekend, and there were so many people at the wetland. You would have to walk a long way on the boardwalk to the limited area where you can get into. Listening to everyone around me speak, I could tell that they were mostly Taiwanese.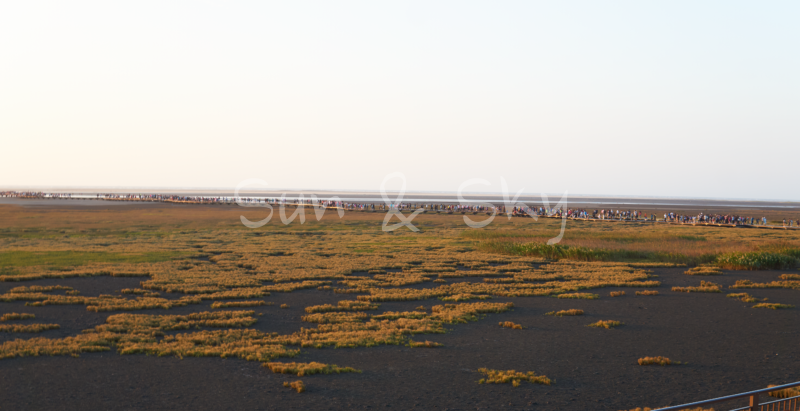 See the picture below. We had reached the final point, and if you wanted to go in, you needed to remove your shoes.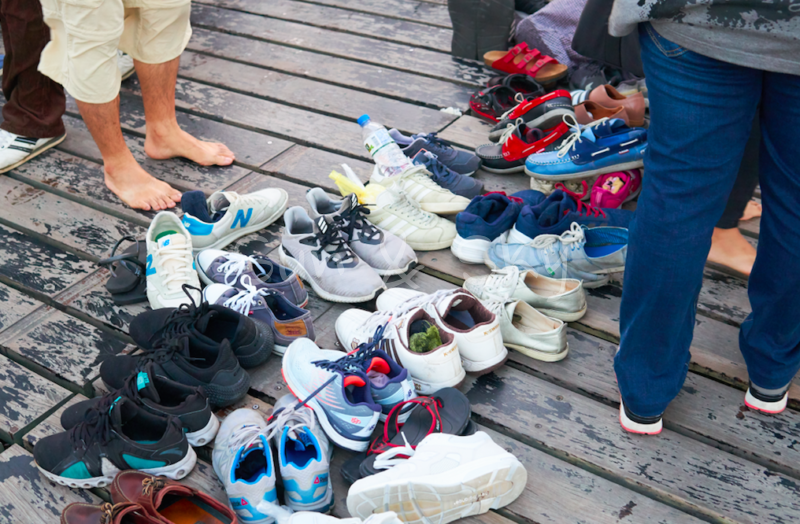 Please note that there is nowhere to wash the dirt off , so, unless you were wearing washable sandals, you should walk the boardwalk to the ground in your barefeet.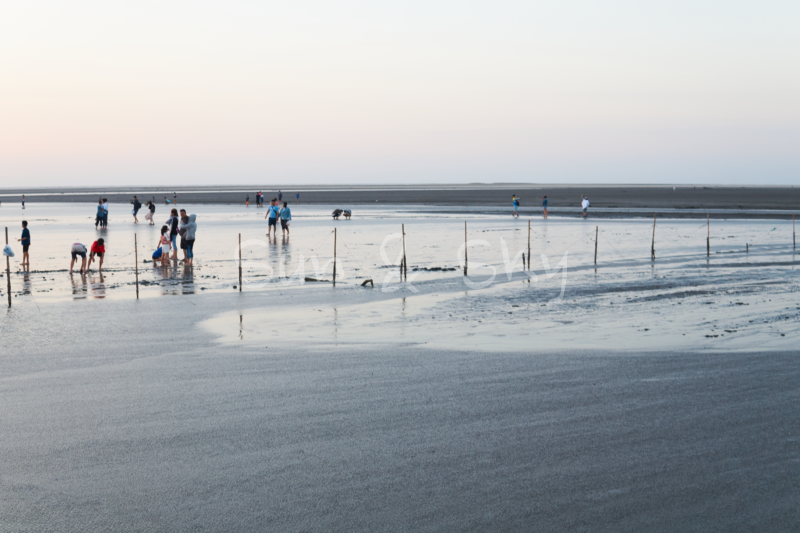 See the picture above: The area is divided into two and the people shown were allowed in the limited area.
I decided to stay behind and wait for the sunset.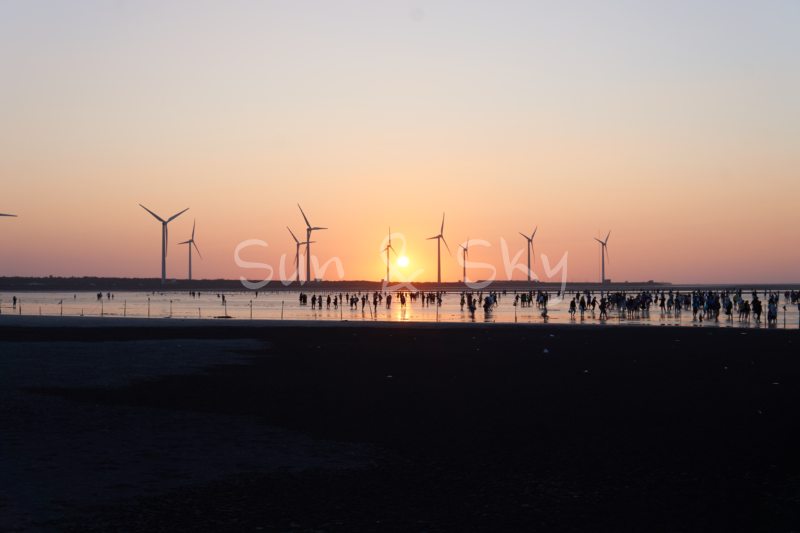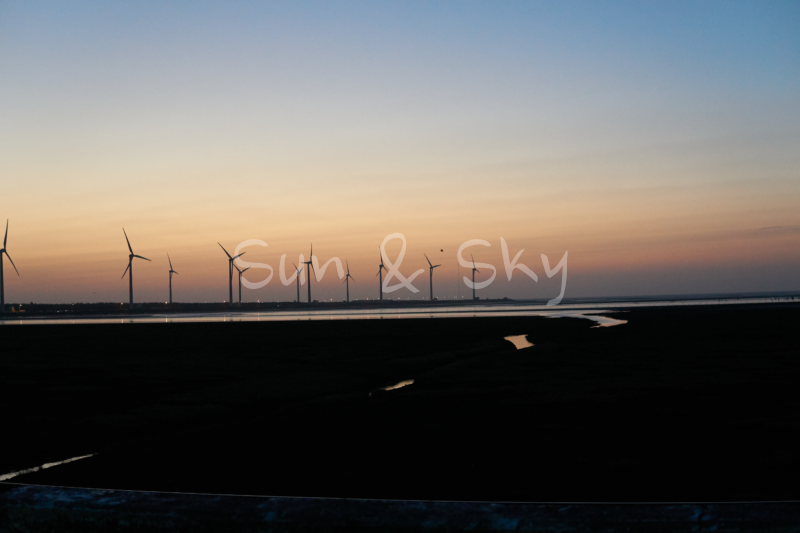 The sunset did not disappoint!
It was a really beautiful sight. It looks so quiet, doesn't it?
It was so crowded, and SO windy that I was almost blown over into the silt when I was walking, no joke. I saw many hats/caps and shoes on the shore. You could not go into the wetland when the wind would blow.
I took a video to show you just how windy it was.

This 1080P short video was taken by me, using my own iPhone 6 with a Beyondsky Eyemind Intelligent Handheld Gimbal (sponsored by Gear Best).
What you should and shouldn't bring.
Must haves:
Camera (Of course!)
Sandals and towels (if you want to go onto the dirt)
Pullover or cardigans (it was a little bit colder than I had thought due to the wind)
Leave behind:
Hats/ cap (as long as you want to see the sunset, there is no need, and they can be blown away!)
How to get there and back
I strongly recommend buying optional tours
Under the evening twilight, many were trying to head out.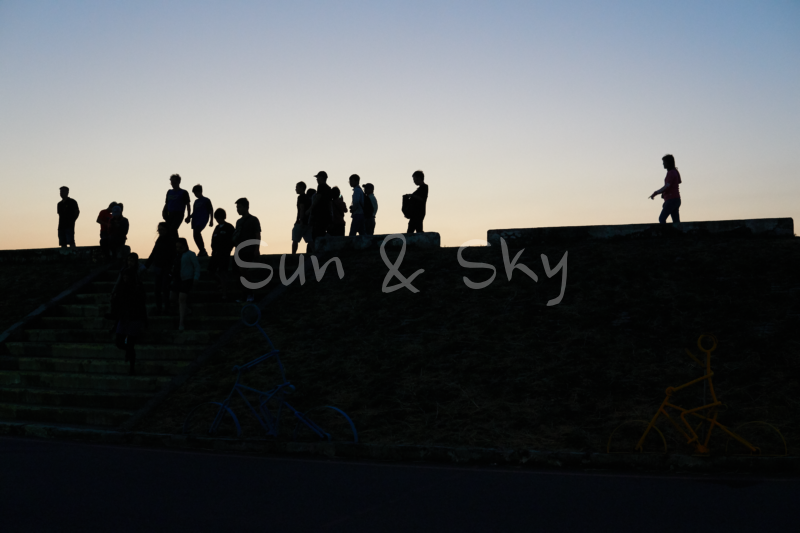 There was a long line to get back to their homes. I guess they are mostly locals, and they probably got there by car. But how should we tourists get here and back? Rent a car? Public transportation? Taxi?
For tourists, especially for us solo female travelers, I recommend to buy an optional tour. I will tell you the reasons why.
Car: Taiwanese are rough drivers
I do not know how you feel when you are in Taiwan, but I am ALWAYS scared by Taiwanese rough drivers. The accident rate is higher than in Japan.
I would only recommend that you drive if you were experienced at driving in Taiwan.
Taxi: I don't remember whether there were taxi stops
The second option would be to take a Taxi, but to be honest, I do not remember whether there are taxi stops.
"Sharing car rides", aka unlicensed taxis are not my choice. It is too dangerous for female solo tourists.
Bus: you may need to wait for a long time
It would seem that there are local buses, but at the bus stop, I saw there was a LOOOOOOOOOONG line waiting.
I don't think they could all get on the one local bus, they would need to wait for several buses.
Taichung, where there is not good public transportation, but it is a moralized city. Where Taipei is not.
Public Bikes: Dangerous isn't it?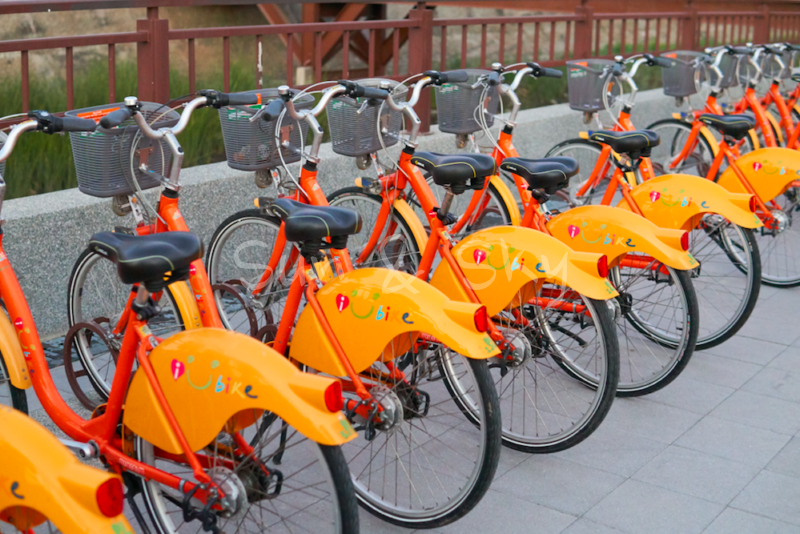 Another option, the public bike, I also cannot recommend. The wetlands are not close to the city center, and again Taiwanese drivers are quite rough. It is too dangerous to bike after sunset.
Optional Tours: Thumbs Up!
I admit that it is ridiculous you need to go places that you have less interest in, but I found it is the easiest way. I have no need to think/ worry about my way back after dark.
The price can be more expensive than traveling there by myself, but I do not need to be nervous whether or not I can get the bus to back to downtown during twilight or night. Also, I could sleep on the bus (as many did) from Taipei to Taichung, and back. It was a hustle free.
See how far it is from the city center.

About Gaomei Wetlands
According to the bus guide, it was originally a seaside swimming area, and after the soil‐erosion control works, it was closed as a leisure point. It was left alone and became the Wetlands we see now.
To keep this unique environment, it is Gaomei Wetland Preservation Area (高美溼地野生動物保護區) now.
About the bus tour, One day Taichung Tour from Taipei
The route of that day was:
National Taichung Theater
Eslite Park Lane (Lunch. This is not included in the tour price.)
Miyahara Ganka (Ice Cream Shop, Also not included in the tour price.)
Rainbow Village
Gaomei Wetland
The tour guide was a Taiwanese lady who spoke Japanese, English, and Chinese. The tour members were mostly Japanese, a few Koreans and Filipinos. She tried her best, but I think she would have been better off to use a paper plate to let people know what time they needed to return to the bus.
The Filipinos had lost their way to the meeting point (they misunderstood that the meeting point was not Taipei Station on MRT Taoyuan Line, but Taipei Terminal Station.) The bus couldn't wait for them, and they had to chase the bus by themselves to Eslite Park Lane, Taichung.
National Theater is quite an interesting building, and we could go into the building itself.
Miyahara Ganka, we needed to go to the branch, the service was quite slow, and possibly the worst service ever I have experienced in Taiwanese cafes/ restaurants. The ice cream taste was not bad, but I think it was overhyped. I will never return.
Rainbow Village was a wonderful site, but a little bit crazy. I enjoyed it.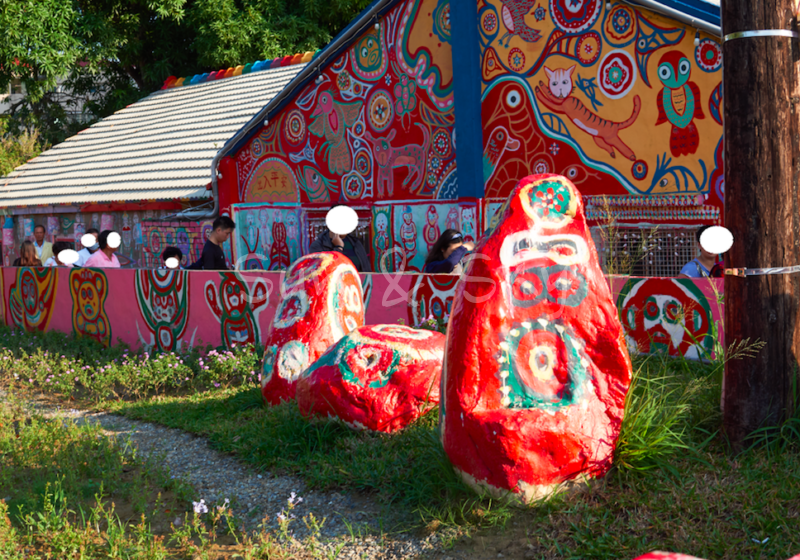 And the final place was the Gaomei Wetlands.
I was totally satisfied.
It would also not be bad to buy a half-day tour from Taichung.
Kkday Day Tour from Taipei: Taichung Gaomei Wetlands and Rainbow Village
Kkday Half Day Tour from Taichung: Gaomei Wetlands and Rainbow Village