What time do you need to arrive at/ leave from Taoyuan airport?
I sometimes need to arrive at TPE, aka Taipei Taoyuan International Airport late at night, or leave TPE in the early morning.
This Taoyuan Airport is not located in city of Taipei, but in the city of Taoyuan. It takes time to get to this airport from the city centre of Taipei.
To/From Taipei city
Currently, there is 24-hour airport bus service between Taipei and Taipei main station, and of course I want to get to sleep as soon as possible, and sleep in as long as possible :D. It seems that some people get left in Taipei Station, due to limited seats on the bus during the midnight/early morning lines. It is super risky to rely on this if you need to get there very early/late.
Due to the long lines to get through security check and passport check, I strongly recommend to be at Taoyuan Airport earlier than usual, especially in the morning.
Why Novotel?
My recommendation is to stay at the Novotel Taoyuan Airport Hotel. I have stayed here twice, 2014 and 2017.
agoda Novotel Taoyuan Airport
I have stayed at another hotel, City Suites, but it smelled badly, I saw bugs, staff was rude etc., I would never recommend staying there, and I won't be going back. The price is almost half of the Novotel, but I feel it is still steep in cost for this hotel, location, and quality.
agoda Citiy Suites Gateway Hotel
This Novotel isn't very affordable (US$150), but it is a comfortable stay.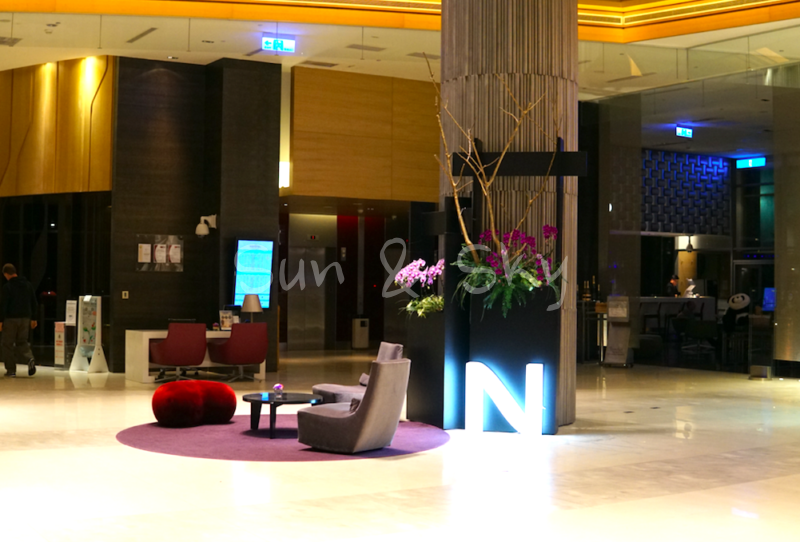 For my personal taste, this Novotel is expensive and too extravagant, but it is comfortable and super convenient. Convenience is the very the value, I pay for. This is the reason why I often repeat this hotel.
Room
Personally, I am not the type who likes big international luxury hotels, but prefer local, smaller, comfy and well designed hotels. But for an airport hotel near Taoyuan airport, my recommendation is this Novotel.
My room was the most affordable rate room at $150 USD per night. I am a modest person who likes simplicity, the size of this room is… too much.
The room is much larger than what I need, comparing Hotel Relax 5.
See also: Hotel Relax 5
There is only a shower, no bathtub, which is behind smoked glass. For one person, this isn't a problem. These half transparent bathroom/shower-rooms are often in Taiwan.
In the picture above, shower is on left, and toilet is on the right.
I dislike that the bath/shower and toilet are not divided. So comfortable in this Novotel. Seems I could not take a shot in 2017, here is a picture I took in 2014.
It used to be that they had stinky amenities (ie. shower gels) long ago, but as of Nov 2017, their choice was more modest and I liked it.
Quiet
It is quiet!
Airport hotels tend to be noisy due to people arriving late at night, and also leave in the early morning. Fortunately, I had stayed at this Novotel twice, but I have not experienced any noise so far.
Here is the view from my window.
As of Nov 2017, they were building a new Terminal 3, but I couldn't hear the noise of the construction.
It is so important, isn't it?
Plugin outlets
A big plus of this hotel are the plugin outlets.
It is an International multi-plugin shape, but you must remember it is 110V in Taiwan.
See also: Plugbug is useful!
There is also a built-in USB charger.
Restaurant
There are several restaurants in this hotel and you can eat your breakfast in one of them.
I had opted to eat breakfast here during my stay in 2014, but in 2017, I did not due to my schedule and I didn't want to have to rush to eat. I liked the buffet they had served, I wanted to enjoy rich breakfast.
Location & way to go
It is super convenient if you want to take the MRT Taiyuan Airport line, aka Purple Line, you can take A14a.
See also: MRT Taoyuan Airport Line
If you come from the Taipei Station side (like me), you need to change trains to bring you to Zhongli (as of Nov 2017. They are still under construction to extend the line), somewhere, probably Taoyuan Airport T2 or T1 would be convenient. I changed at T2, same on the way home.
Here is the First and Last Train times."""""""""""
My flight was 08:30 AM or so, as I remember, and the first train at 06:02 would not get me to the airport with enough time. Of course, I took their shuttle bus service, because the lady at the front desk informed me about it when I checked in.
Note: In Taoyuan Airport, in my experience, both T1 & T2 are super crowded in early morning. In Nov 2017, I was in T1 heading to Hong Kong and had to stand in a long line for the security check.