In Oct 2018, I traveled around Kyoto and Nara.
When I was in Nara, I found I have a half a day for free to visit somewhere, I decided to go to Horyuji (法隆寺), one of the oldest temples in Japan. Where is the oldest wooden buildings in the World. Of course Horyuji is registered as World Heritage Site.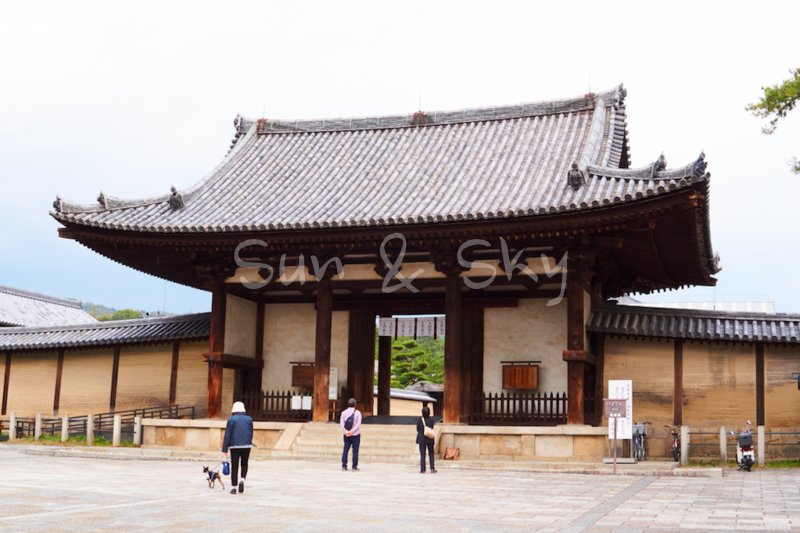 This temple is originally settled by Crown Prince, Shotoku (聖徳太子) (he was one of the suns of Emperor Yomei (用明天皇), prince regret of Empress (ruler) Suiko (推古天皇), but he died before his enthronement) in early of 600s.
It was morning of the weekday, there were few people in this old temple.
There are two parts, Eastern and Western. In this time, I start to see from the Western Part.
Western Part (西側回廊)
Kindo (金堂)
This Kindo (金堂) is the main hall, and one of the most important building, I am sure.
In Oct 2018, I could go to see the inside. There were beautiful paintings what were drawn in 7th Century, but burned in 1949. It was already filmed and they restored as they were in 1949. It is colorful 7th Century's paint.
The outside is also wonderful. I show you another shot.
Can you see dragons on the pillar? Don't miss it!
Pagoda (五重塔)
They have a wooden oldest Pagoda in the world, built in 600s. This beautiful shape is the standard of Japanese Pagodas.
In Oct 2018, they opened inside. It was my 3rd time to visit, as I remember, but this is the first time to go enter the inside.
Treasure Museum is also in this side, do not miss it! In the museum, there is Tamamushi Shrine (玉虫厨子)for the Crown Prince, Shotoku.
You can see some of the treasures in Tokyo National Museum.
Eastern Part
Do not miss the Eastern Part.
This is Yumedono (夢殿), the place is located the Ikaruga Palace of the Crown Prince, Shotoku. The original building is settled in 700s, and maintained in 1230.
Kagami Ike (鏡池)
There are some ponds, but the most famous is this Kagami Ike. If you are familiar with haiku, you must know this "Kakikueba Kaneganarunari Horyuji" (柿くへば鐘が鳴るなり法隆寺), by MASAOKA Shiki (正岡子規), written in 1895.
Kaki, I found it in the supermarket when I traveled Austria, you may know it. This area is famous as this fruits.
In the near of this pond, there is a small tea house or something, Shiki bought Kaki and ate. He heard the bell rang in this temple. Kaki is the symbol of Autumn, and it would be colored leaves around him. It is the very simple poem, but a little bit high context, I need to admit.
The way to go
It is settled in rural area.
I took a local bus from JR/ Kintetsu Oji (王寺) station to Horyuji. Indeed the bus is not coming often. You can walk there, but the nearest station is not Oji Station, but JR Horyuji Station. Seems 20 mins to walk.
If you do not read/ speak Japanese, it can be not easy to take buses, I am sure.
Taxi will be easy for non-Japanese speakers. Guess Oji or Horyuji station there are taxies are standing by. Say "Ho-ryu-ji", they will take to there.
When you are worrying about your returning, it is really a rural area. Ask the driver to stay (with paying) or to come back after 2-3 hours later. If you like to see old buildings, 3 hours will be short, I am sure.
Also, I was too much inspired and tired in this temple, I perfectly forgot to visit Chugu ji (中宮寺), near of this temple!
If you visit Japan to explore those old buildings and temples, you can not miss it. That temple is related to the Crown Prince and his mother Empress Hashihito (間人皇后), originally it was settled different place, and moved this area in late 1500s.
I searched for KKday and KLOOK, I could not find optional tours to go.
Indeed there is Nara Kanko Bus (奈良観光バス) is selling group touring as an optional tour.
Regularly they are selling everyday. When I was a kid, my mother (she spent her youth in Nara, and really familiar with this area) brought me to this temple with this group touring, she wanted me to see as much as we can in one day. It was really short to stay, but I could visit lots of temples in one day.
You are able to buy the optional tour of the next day or the day in JR Nara Station or Kintetsu Nara Station.
奈良観光バス株式会社
奈良観光バス株式会社は、お客様から「信頼され愛される」をモットーに楽しい旅のお手伝いをいたします。安心、安全を最優先する奈良観光バスは、快適なバスの旅をお客様に提供いたします。
Please check carefully about the official site of the temple, before your visiting.
admission | Horyuji Temple