Why in Kobe?
I needed to book for a night at Umeda(梅田), the center of Osaka in Sep 2015. It was a sudden trip, and I wanted to save money. I needed to book on the very one week before of the day, I could not find any of the affordable but looks affordable and safe hotels in Umeda area.
I looked the hotels out of Umeda. It was Nanba(難波), southern of Osaka is one of the solutions, indeed it is a little bit far from Shinkansen (super express ) stations. I decided Sannomiya (三ノ宮), Kobe(神戸) to stay. Sannomiya is the center of Kobe, it is located western of Umeda. And this hotel is not so much far from both Hanky & JR stations of Sannomiya.
Lovely.
The "Hotel Monterey" is a hotel chain of Japan, and I had stayed one of them in Tokyo. I know they supply  "affordable" but comfortable service to stay.
I will tell you the way to go from Sannomiya Station later.
At the Hotel
I could not check-in when I was arrived, it was before of 3 O'clock. I left my bags, and went out.
Hotel Design
According to them, this building is inspired by Medieval Monastery. I am not so much sure if you are from Europe, but as a Japanese lady, it is so cute design. It is simply an "Image".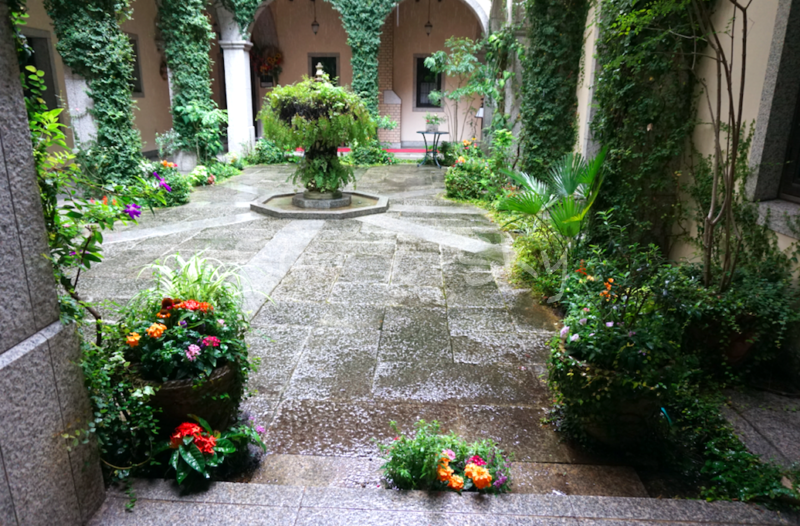 I will tell you about the design thing in the bottom of the article.
Look! How cute!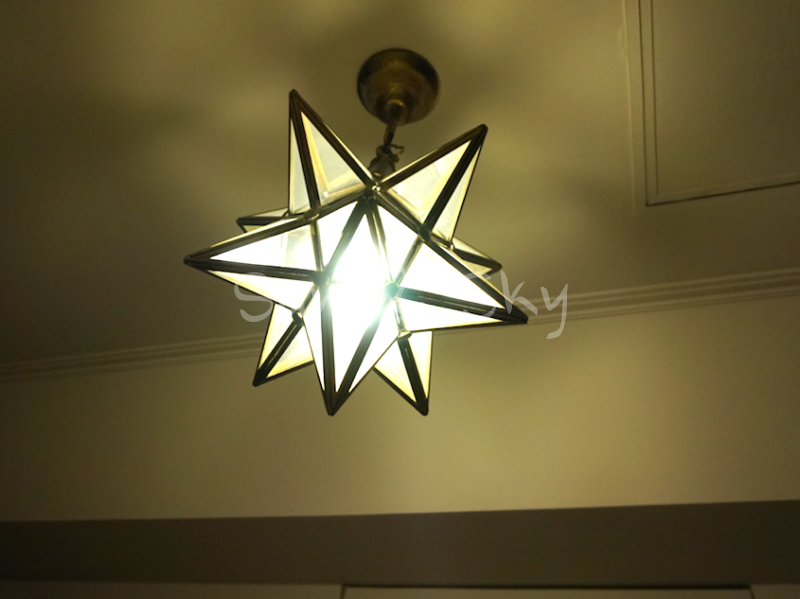 My Room
I booked a single room, US$80 with breakfast.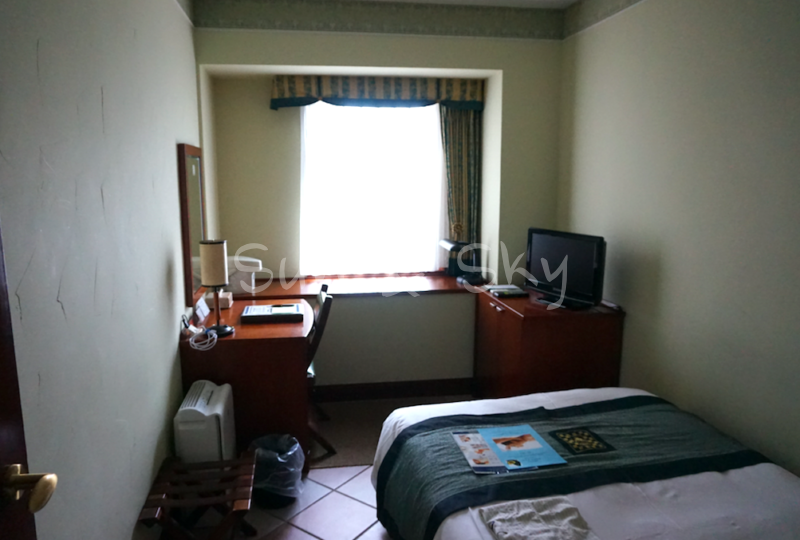 This room is not big, but essential with cute design.
The desk is unique, but super sensibly to use.But as Japanese eyes, this room is too dark to work after my back, but if you want to use, there is a stand (but far from enough for my eye health).
This floor is by tile, and in Japan, there are often carpet floors in the hotels, but it is really easy to earn stains. I thought this floor is chosen by the design, but I thought it looks more hygiene.
There are slippers, not give-away one. I prefer disposable slippers.
In the bathroom, there is a built-in hair drier but here is a usual hair drier too, what is stronger than the built0in one.
Recent few years, I often find air cleaners with humidify. It will be depending on where you are from, if you are from the continental countries, you may feel it is humid in Japan. But as a resident of Japan, the hotels are often too dried I often request to have humidifies.
Window
My room is a "city view", aka "the next building view". I found there is a small garden, and nice, but you can open this window enough wide to enter. Please do not forget to close and lock.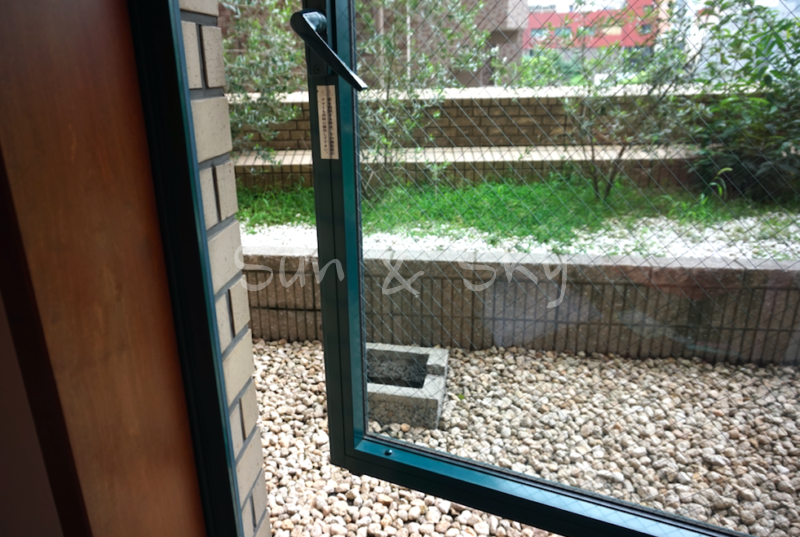 There are pottery cups and a glass cop.
There are some bottles in a small refiregiator. As I know, and have visited other counties, these mini bars are really steep than the street price.
Bathroom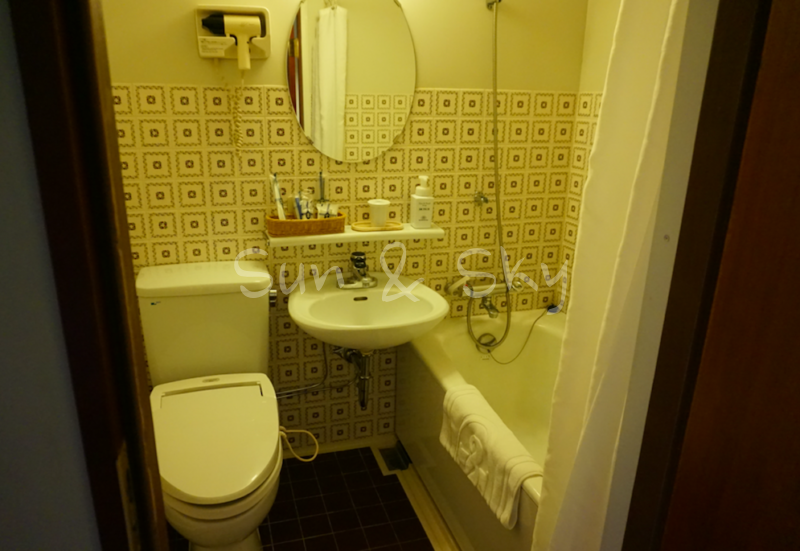 The tiles are also cute. And it is perfectly clean.
The bathroom is also darker, not a sharp picture, but you may see the bath amenities.  The Monterey Hotels, they serve the body towels to wash, and it is one of the reason why I like them 🙂
The shampoo, Conditioner, and Body Soap are by POLA.
Plugs
The room key was an IC card, and seemed they serve electlonic power when I leave, I went out with charging one of my power banks.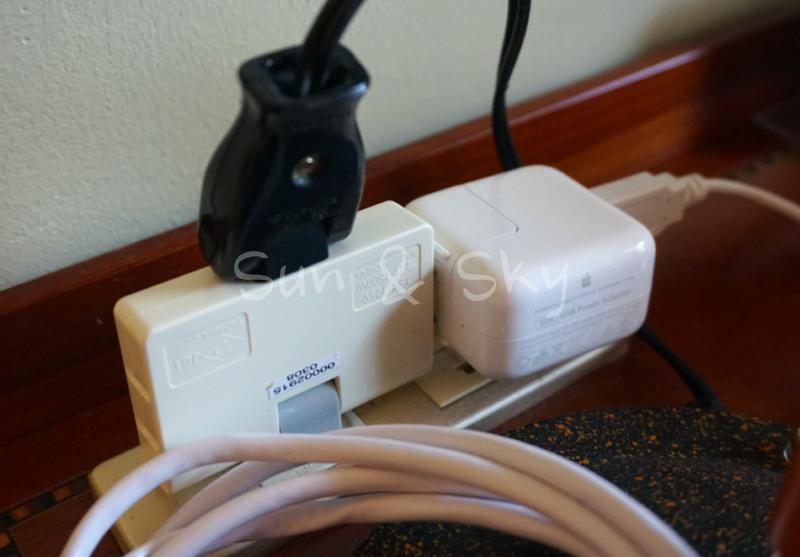 It is on the dedk. There are two plugins in the floor near of the bed.
Breakfast
In this time, I bought a breakfast plan.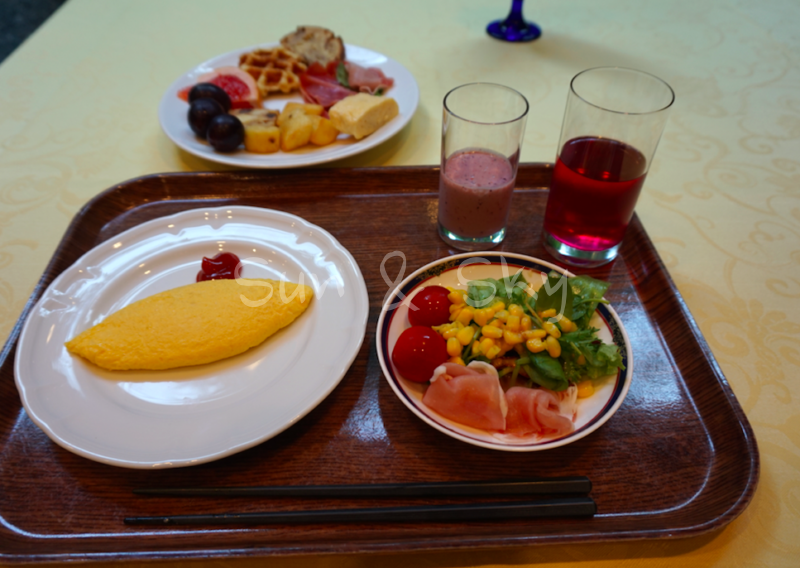 Sour cherry juice, Berry Mix Smoosy are good start of the day. There was an egg station, and I asked an omelet.
About the design
This "Medieval Monastery" design, for me, it is "cute", indeed I am also a grown up and well educated. As a Japanese, and knowing the business of Hotels in Japan, they want to sell this hotel as a "cute, well made and simplicity wedding hall". The ratio of Christian in Japan is less than 10% I am sure, and in my friends, I have only one Japanese Christian, however some Japanese want to have their wedding party in Western Style, infant of Caucasian "Priest".
I understand it sounds so wired, and I can describe it is a kind of "narrow understanding " in Japan. However I also had the very the same impression when I saw a head stature of Buddha as a decoration at a yard in middle class of the States.
There are nothing difference between this hotel and that yard.
I have already given up with seeing these, but if you do not want to see these, I do not recommend to stay at this hotel.
Indeed, I this hotel is cozy and convenient, I slept pretty well and satisfied.
The way to go
I got off my Super Express on the Shin-Kobe Station, and took subway to Sannomiya. The price was JPY210.
Please go up the Sannomiya Subway Station on the West Gate.
I needed to go to Umeda. I took Hankyu Sannomiya Station to Hanky Umeda Station. JPY320 in one way and took almost 30 mins.
I left this area by local train by JR to head to Himeji. The station is JR Sannomiya Station. Please check the map I attached below.