Note;
In Sep 2019, Sky went to Hwaseong Fortress, and it was served by KKday for her Japanese blog. She had already described about in her Japanese original blog.
Also, it was an optional tour from Seoul, and seems there are no the very same tour in Sep 2020. Also it is not easy to find out the optional tour to Hwaseong Fortress what allow your joining by alone
Seems you can join as a couple in KKday, this tour is not what I joined.
KKday Suwon Hwaseong Night Tour From Seoul
It was KKday who served, but I found there is an optional tour in KLOOK. For your convenience, I show it to you.
KLOOK Korean Folk Village and Suwon Hwaseong Fortress and Hwaseong Grand Palace Day Tour
KLOOK Hwaseong Fortress UNESCO Cultural Heritage Tour from Seoul
What is Hwaseong Fortress?
When the Joseon King Jeongjo moved his father's tomb to Suwon at the end of the 18th century, he surrounded it with strong defensive works, laid out according to the precepts of an influential military architect of the period, who brought together the latest developments in the field from both East and West. The massive walls, extending for nearly 6 km, still survive; they are pierced by four gates and equipped with bastions, artillery towers and other features.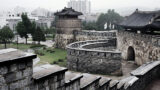 Hwaseong Fortress
WhentheJoseonKingJeongjomovedhisfather'stombtoSuwonattheendofthe18thcentury,hesurroundeditwithstrongdefensiveworks,laidoutaccordingtothepreceptsofaninfluentialm...
There is a balloon tour too, but in this optional tour, there were no time to see.
Hwaseong Fortress
Starting to the archery zone (the picture above), we walked along side of the wall.
Wall has some halls, and as other countries, it is for shooting.
This is a hidden gate.
We walked to the tower (訪花随柳亭). There is the most beautiful area in this fortress.
Those days, they used Chinese characters! This fortress is described as 水原華城 in Chinese characters.
I was moved by the beautiful color. I saw the green in the palaces in Seoul in the next day.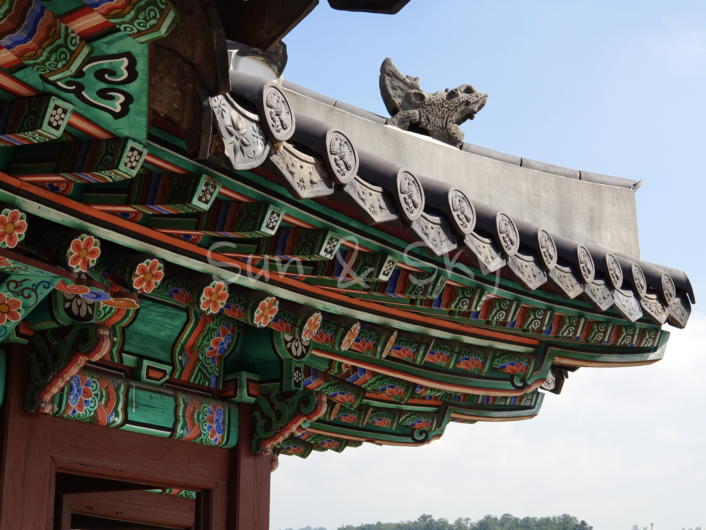 Sounds this building is a original, but allowed to see from the inside.
There is a pound in below.
This building is on the left at the picture above.
It is an observatory to see the beautiful site, and military watching.
We went down the wall side to back to see the Watergate, what was in construction.
I think it is difficult for me to visit this place by alone, I neither read/ speak Korean. I had known I could not spend so much time in this fortress, but this fortress is much bigger than I had thought.
The tour brought to me not the Grand Palace (水原行宮), but the market. I wanted to see the Grand Palace…
Suwoon Traditional Market
I did not expect it was nice place to see the Traditional Market, but it was more than expected.
It is insisting "Traditional" but it is not meaning there is a market since Joseon dynasty. It is after Korean War.
It is quite near of the South Gate of the fortress! (八達門)
Walking inside and along side of the market, there are some "parts of the fortress".
Here it is.
There are too many people, and the most surprised are, the towers of red pepper powder!
There are many "traditional markets" in lots of old cities, but not few of them are "market for tourists". This market in Suwoon is 50% for tourists, but 50% for the locals, I thought.
I took shots, but there are too many people are seen, I don't see in here. Please visit Korean markets!
Also, as I remember, this watergate is located in near of the market zone.
Seems there are people who walk on the wall, but down side is also attractive to see the fortress.
I am not sure whether your optional tours bring you to the traditional market zone, or not. Grand Palace may be more attractive for me.
However I thought this market zone is full of "life" of Korean. When you are able to visit there, you may be lucky.
Seems you can join as a couple in KKday, this tour is not what I joined.
KKday Suwon Hwaseong Night Tour From Seoul
It was KKday who served, but I found there is an optional tour in KLOOK. For your convenience, I show it to you.
KLOOK Korean Folk Village and Suwon Hwaseong Fortress and Hwaseong Grand Palace Day Tour
KLOOK Hwaseong Fortress UNESCO Cultural Heritage Tour from Seoul