When I was in Kyoto, I tried to walk as the systematically.
Indeed I found that it was 15:30 where I was in the Gosho (The Palace) area, guess I can go somewhere in the next few hours before the sunset. I chose Imamiya Shrine.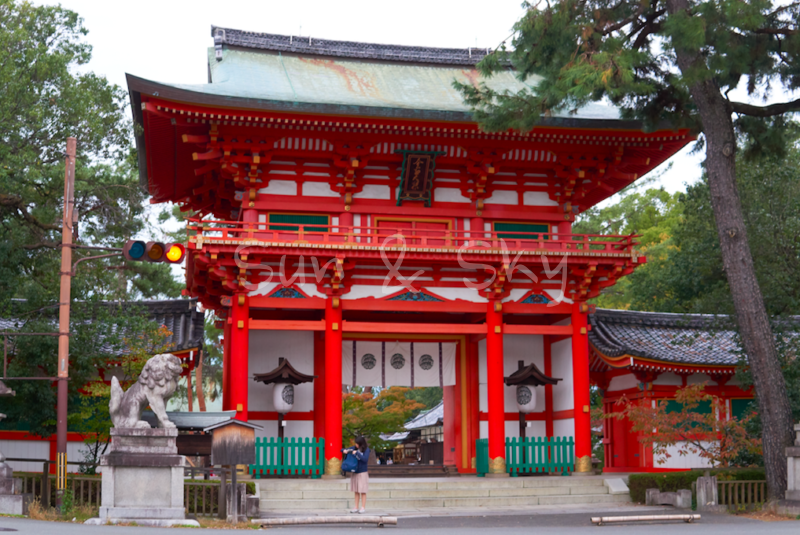 About Imamiya Shrine
Imamiya Shrine itself was founded in 994 (no joke, it is neither big nor important shrine in Kyoto, but there are many these shrines / temples). But it is famous for the happiness of Keishoin (桂昌院) in late 1600s to early 1700s.
Tama, the her born name, she was born as a daughter of greengrocer near of Imamiya Shrine and Daitokuji area. She was famous for the beauties, and adopted to rich family to be a maid for Man, Cocubine of Shogun Iemitsu in Edo (Tokyo). Later, Tama was also one of concubines of Iemitsu, and delivered a boy, he is the very Shogun Tsunayoshi.
The story is back to the Shrine, when Tama was young and in Kyoto, she often prayed at this Imamiya Shrine.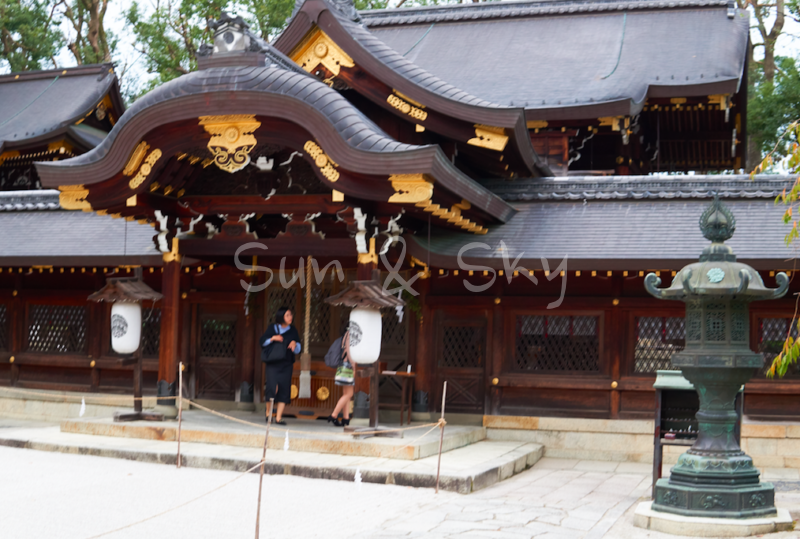 The shrine is quote famous for the happiness.
However! It is not my purpose of visiting this shrine.
Aburimochi (Burned Rich Cake)
Please leave the shrine from the small red bridge side.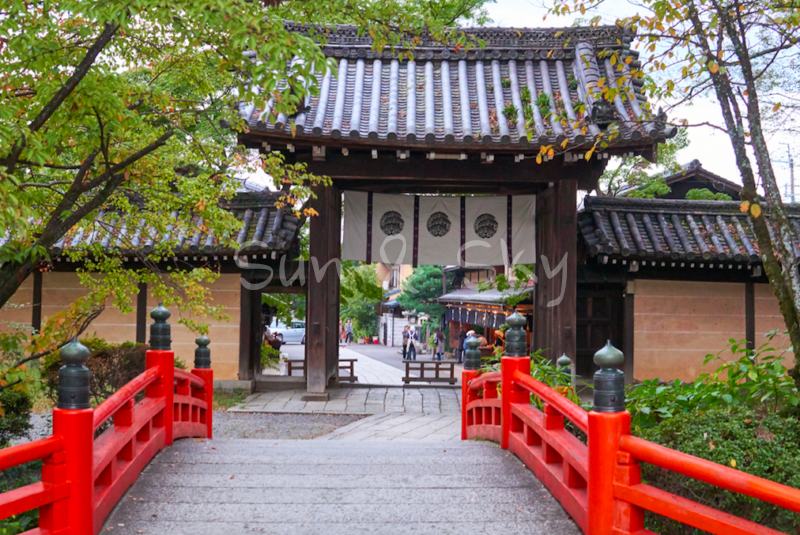 There are two old stores are.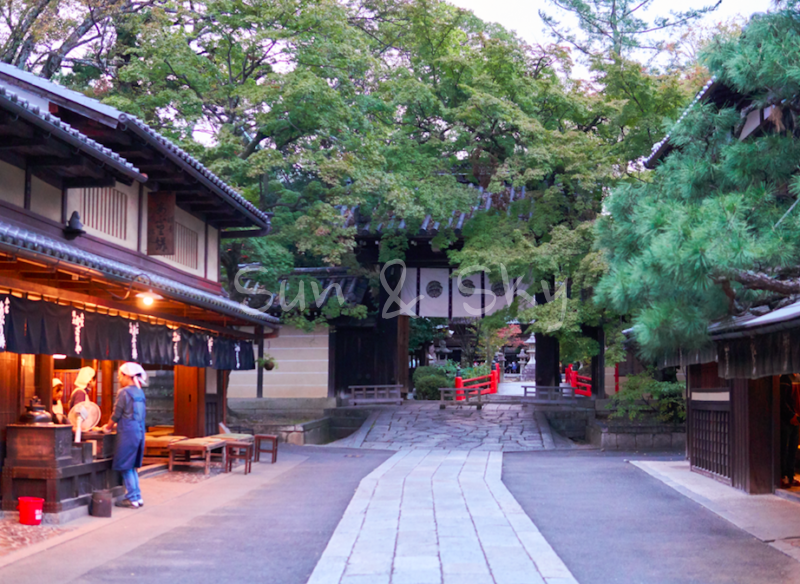 One is Kazari-ya.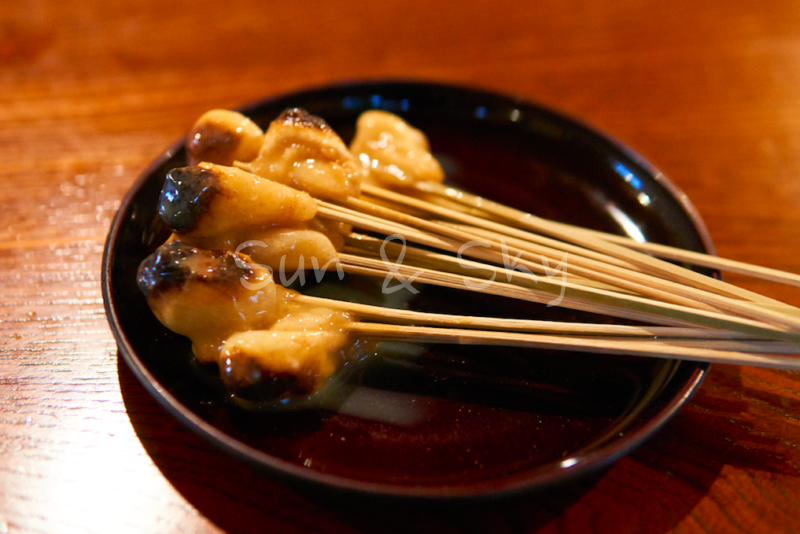 The other is Ichiwa.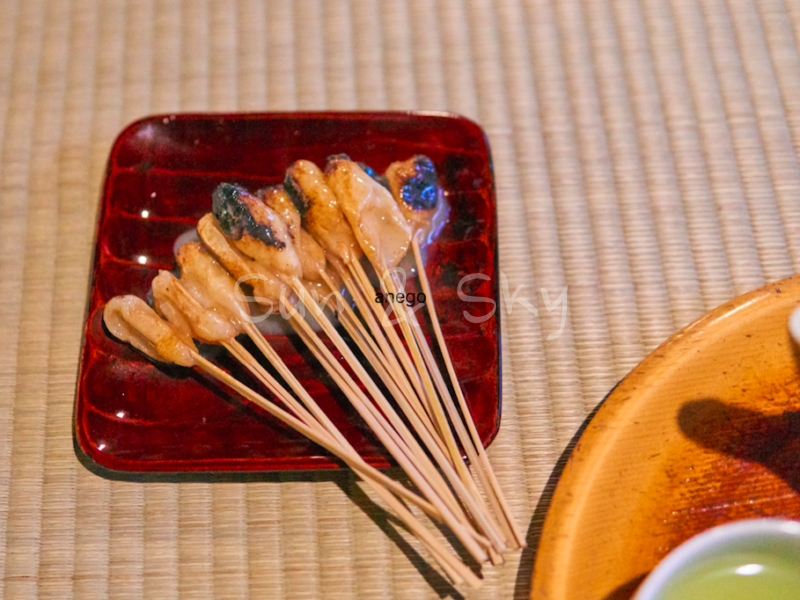 They are serving almost the same style treats, "Aburi Mochi".
Finger-sized pieces of the rice cakes are skewered on bamboo and toasted flour of beans. Then they are grilled, and dipped into miso syrup.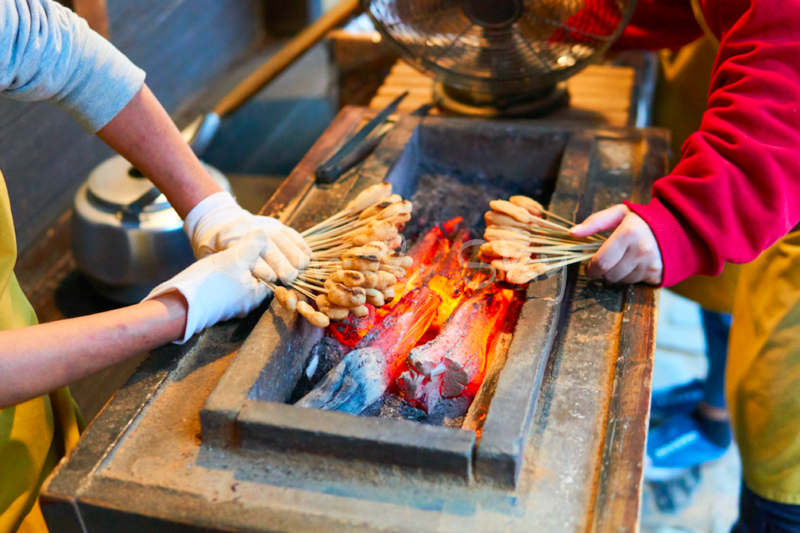 To be honest it takes time to wait for the served, but you may also enjoy to see they are making. It is handmaid. Both stores has the same style, and the same price (¥500 for one person), but the tastes are a little bit different. Guess Ichiwa is not much flavour, and I like this Ichiwa. I felt Kazariya is sweater.
According to Ichiwa, they are running this small business since 1002. No joke, it is Kyoto.
While the war time in Kyoto (called as Onin no ran, 応仁の乱), 1467-1477, they served this treats for the citizens who were burned out.
It is really a nice to enjoy!
Walk
I got off #46 bus at Funaokayama Bus stop, and walked the residential area of Kyoto.
Seems originally there was a red Torii ⛩ was there, but due to the Typhoon in 2017, the gate was tilted, they had removed in 2018.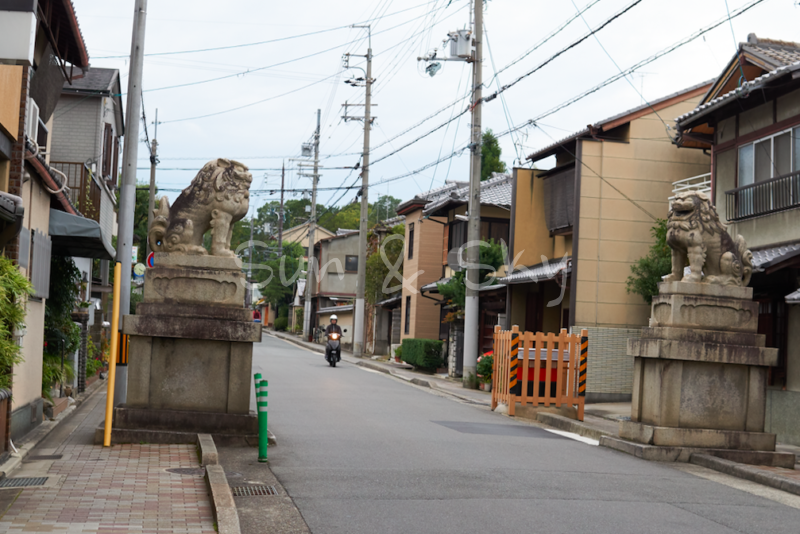 In this area, Daitokuji (大徳寺), huge temples too. But seemed they had already closed at 17:00. It is difficult to pass the Daitokuji area for we tourists. I recommend to use #46 bus to get off, and take buses on Funaoka yama bus stop.
Or, if you want, you may be able to walk from Kinkakuji, but I do not recommend to do.
Hours
: (seems the Shrine itself is opening for 24 hours)
Admission Fee
: Free to visit
Place
: 21 Murasakino Imamiyacho, Kita-ku, Kyoto
HP
:
http://www.imamiyajinja.org/eng/imamiya_ENG/TOP.html
How long Sky stayed
: 1.5 hours with eating two dishes of Aburimochi
How to be Imamiya Shrine
: #46 bus to Funaokayama bus stop, and walk