Previously, I had stayed at JAL City Yokohama, due to the hotel rate in Tokyo.
See also: JAL City Kannai Yokohama
Kawasaki is nearer to Tokyo than Yokohama. It is not so much a big city, and the image of Kawasaki is not so much fashionable. Indeed there are many hotels and express terminal, it means super convenient.
In this time, I took Keikyu EX Inn Keikyu Kawasaki. It is new and super convenient hotel for people who flies to/ from Haneda airport.


(Picture from agoda)
Keikyu EX Inn Keikyu Kawasaki, is running by the transportation company Keikyu, what I often take a ride from Haneda. And this hotel is located on Keikyu Kawasaki Station building, "Wing". After 23:00, there is a direct elevator from Station.
agoda Keikyu EX Inn Kawasaki Station
My room
My room is a single room with breakfast, one of the most affordable rate, US$100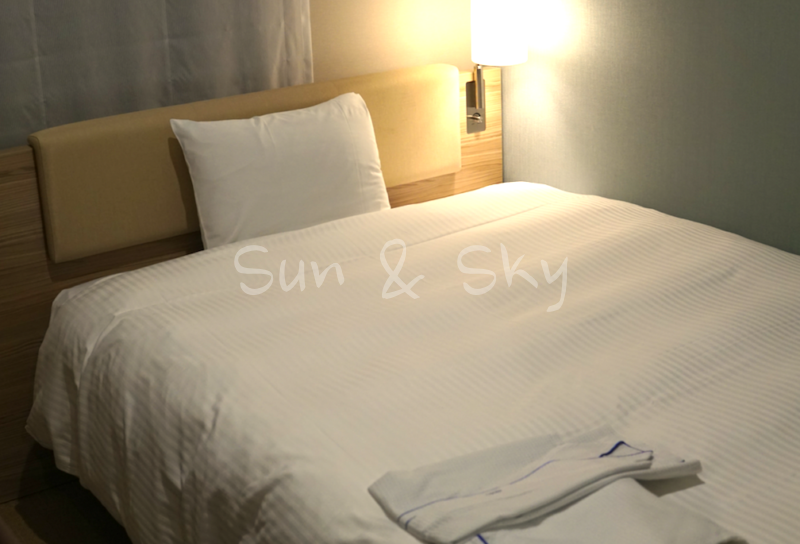 On the bed side, there is a cell phone friendly spot, in the picture below, it is my iPhone 8 Plus.
If you do not have plugins what fix to ours, I wonder whether they have plugin adaptors, but you can charge your devices in the USB charger.
In the bathroom, this is a typical Japanese hotel.
It was new and clean.
And this hotel is next of the train station, and Keikyu itself is not pretty much busy, indeed it is Greater Tokyo area, trains are running really early morning to till deadly late. But I did not feel anything noise while I was sleeping. I am not sure the reason why I woke up on 5:00, I found it was quiet, and asleep again.
Breakfast
They do not have canteens, but this "Wing" is a commercial building, there is "Chawan" a cafe, they also serve breakfast. For the hotel customer, the hotel serves a coupon to choose one from 4 kits. It is not a buffet.
This is what I chose in this time.
The quantity is typically for "grown up lady". If I were early 20s, the quantity is far from enough, indeed for me, mid of 30s, it is pretty enough.
I did not take a shot, you can eat with watching trains.
I have already booked next stay in here.
Location
Keikyu Kawasaki Station
It takes 15 mins – 20 mins when you choose express train from Haneda. And there are no extra charging in Keikyu. Please take a ride the cars to Yokohama area, when you take wrong side, Shinagawa, Narita area, change trains in Kamata, or Shinagawa.
And there are two stations nearby, Keikyu Kawasaki and JR Kawasaki station. JR side is a huge terminal, and Keikyu is not such huge.