In Nov 2019, I stayed for a night in First Cabin Kansai Airport.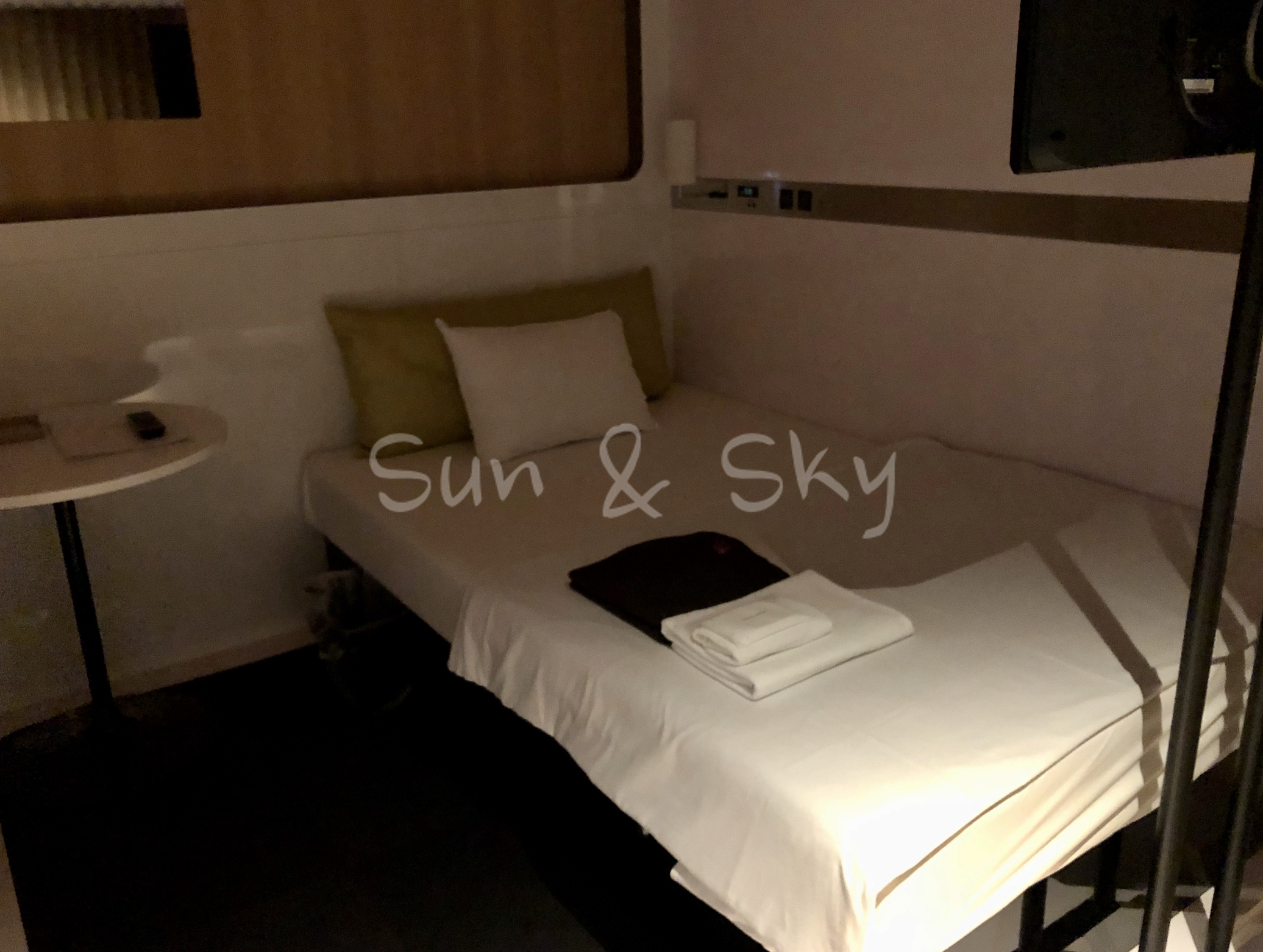 agodaFirst Cabin Kansai Airport
Why I chose First Cabin Kansai Airport?
I flew from Hong Kong to back to Kansai Airport (KIX) in Osaka. It arrived at Kansai Airport at evening, I could take a ride of bus or trains to my destination (as I did to Kyoto in 2018), but if you remember the tension at HK in Nov, I worried the flight delay.
It is not Osaka, but Nara, where is my destination of the next day. When my flight would have delayed for 2 hours, I would have missed public transportation leaving from the Airport. I am a solo traveler, it is a silly idea to take a taxi to Nara.
I decided to stay for a night in Kansai Airport.
Perfect location and good with money
The location is perfect. Kansai Airport is settled in artificial island.
On the island, there are one hotel (Nikko Kansai Hotel) and one hostel (this First Cabin). I had stayed Nikko Kansai long ago, and it is a quite nice hotel, but in 2019, I wanted to save money.
There are budget hotels in the other side, located on the next station from Kansai Airport Station, but I wanted to use "Nara Access Ticket", it is sold only at Nankai Kansai Airport Station.
Note: Generally, "First Cabin" serves single bed cabin only. And they divide male area and female area. There are no mix zone. It is safe for we solo female travellers, but if you travel with your family or friends, you are not able to stay in the same room with them. For those, I recommend to stay Nikko.
First Cabin Kansai Airport
There are two big buildings across the Kansai Airport train station (Nankai & JR).
The hotel and hostel are settled in the other side of the airport terminal. And I'm not quite sure about LCC, but seems the shuttle bus to LCC terminal is from this building.
Two "classes" on the cabin, I recommend "First Class".
I chose "First Class" and this is my "cabin".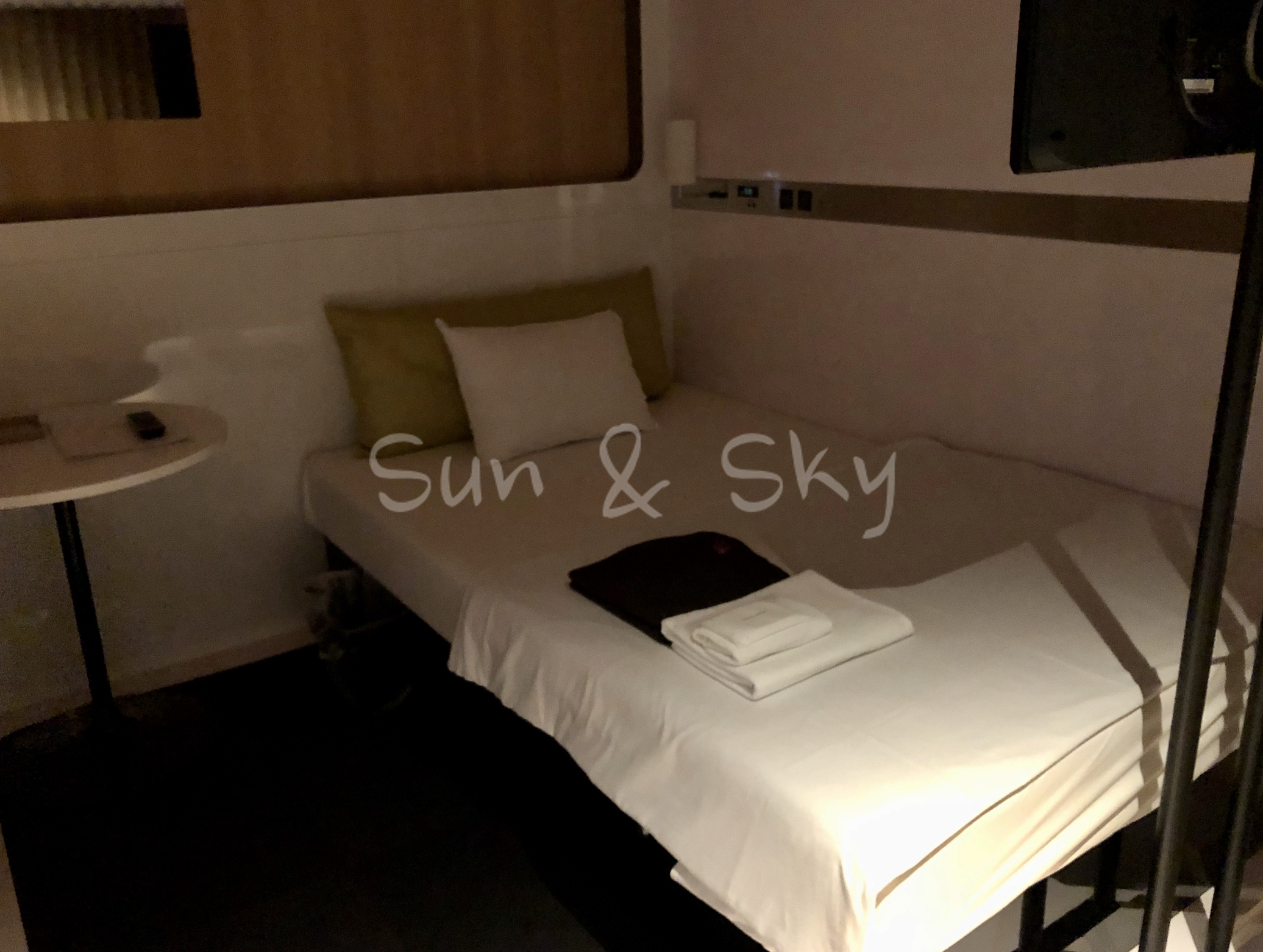 There is only one curtain to divide public aisle, and you are not able to lock.
Here is "Business Class" what I could take a shot.
There are no place for leaving your luggage in your cabin. There would be somewhere luggage storage or something, but I could keep mine on my "first class" cabin.
The bed is comfortable to stay. The length, softness they are good for my using. I had stayed some hotels their mattresses are hollowed, and it is not comfortable or even bad for my back.
It is a kind of noisy, I admit. But I could sleep well.
Their amenities are settled on the bed.
Bring your body and money, and your changes are enough to stay.
Bathroom
There are big bathtub, some shower booths, and toilets. I could take a shot when there are none in there.
In the midnight or morning, it was dirty, but none can help it.
There are used towel return box, but I recommend to keep your wet towel on your room.
The room is QUITE dry. I wear my face mask for moisturise my nose and mouth, but it was too dry and I got cough… I should better to keep the wet towel on the wall side of my cabin.
Also, in the Bathroom zone, there is one coin laundry.


Only one coin laundry (with drier) is for female area.
Fortunately I found it was not used, I removed my clothes, and put it while I take a bath. It took 80 mins to be washed and dried. Do not leave your stuffs so longer, someone are waiting.
Also, I should better to keep my clothes a little bit dried to be moisturise my cabin…
Eating zone
In these "cabin" style hostels, you are not allowed to eat. There are some tables in front of the reception. This place is for eat and meet.
In the building, there are some cafes and restaurants. I had less apatite (but needed to eat something to take medicines). I went to Lawson located on the same building.
Seems there are small travel clinic in the airport, but it is not 24 hours clinic. I could not wait their opening, and I needed to buy medicines on the drug store settled on the airport terminal side.
To be honest, the hostel is not pretty bad. Indeed for me, the total cost ;the hostel price, medicine on the airport, and after my return to home, I needed to visit my Physician and get antibiotics, is expensive than staying for a night in Nikko.