In April 2023, I visited South Korea by ferry. My arrival was Busan Port International Passenger Terminal, where is the port for all the ferries for passengers, speed boats to Busan from Japan.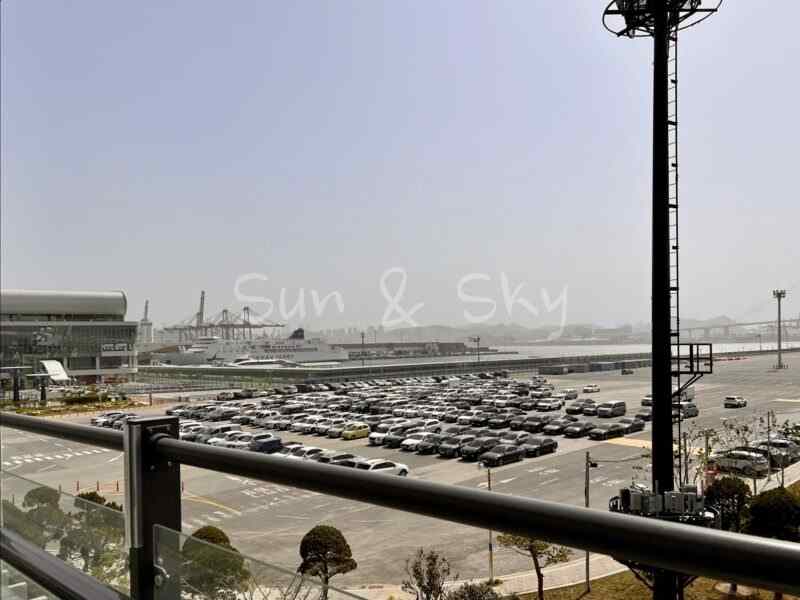 Arrival Floor
Just after baggage check & passport check, you are able to enter Korea. You will see BNK, seems Busan Bank.
The rate is not superb, but I am not sure about Busan, I changed few in there.
I purchased eSIMs, but when you prefer physical SIMs or let them set up, there are SK & KT have small stores.
I am not sure whether they have SIMs for visiting to Japan.
Also for your return, if you count on baggage storage service (like me), you should better to check whether it is working or not.
It was shocking to see that it was closed. I asked people in the information about coin lockers, they said nothing.
I should better to check when I arrived at the port!
I decided to stick in the port without sightseeing, due to the two reasons: 1) there are no place to keep my baggages, 2) even it was easy to go to Korail Busan Station, it was a weekend, and I don't know about the coin lockers in there, 3) Yellow Dust day.
There is one cafe was opened, and seems they may have something desk/ table to do, but seeing their menu, they serves creams, it is not easy for my stomach. I sat on chairs in front of the SIM shops.
I carried something to eat, also there is a small 7-11 selling foods.
Aerial Corridor to KoRail Busan Station
As of April 2023, the Aerial Corridor to KoRail Busan Station is already opened. Also the ground route to the Station looked hard to go, due to the constructions. Also I could not find local bus stops, I am not sure whether the bus from the city centre is active or not.
There is a gentle slope to the corridor.
There are rooves in the corridor itself. There are some forks, you may see KoRail or KTX.
Seems they are not 24 hours opened, I don't recommend to go there when it is midnight.
The centre in the picture below is the KoRail Busan Station.
I think it could be hard to see the station from this point within few years.
From the KoRail Busan Station to the Metro Busan Station, you need to go straight to pass the lobby and go down & down.
When it is rain, you will be wet on the gentle steep to the corridor, and the way to KoRail Busan Station to the Metro Station, both looked little slow design.
Departure Floor
I got a ticket in my departure port for my return, but I needed to visit the counter. But the ticketing time is limited, generally they are closed.
After that we also need to wait for the time to go to the Restricted Area to pass the immigration for departing.
When you need to do tax returning, you can submit just after passing the immigration.
I purchased Shinsegae DFS, and the pick up point is in the Restricted Area.
There are cozy sofas, but we can stay there really shortly. It can be the reason why those area are so clean 😀
I could not find stores selling foods in the Restricted Area, when you need to carry foods, the 7-11 in the Arrival Floor is the final place to do.
Networks in Japan & Korea
When you are a person, to visit Western Japan and Southern Korea in once, those speed boats/ ferries are not bad choice.
My recommended SIM in South Korea is SK. See also: eSIM by SK
But if you have neither Korean nor Japanese networks, Go Inter eSIM is my recommend. You can connect the net in both Japan & Korea in one roaming SIM! See also: dtac Go Inter