It is Gyeongjyu (慶州) where was a capital city of Silla (新羅) that the purpose of my visiting to Busan in April, 2023. I'd been to Korean rural area in past to visit a Korean friend of mine, I know it is not so much easy to go around. I asked KKday to support my visiting there, and they let me join a one day Gyeongjyu tour from Busan. It is for my Japanese blog, and I'd already described.
There are several bus tours to Gyeongjyu, and I chose the tour as my schedule. It is at a leisurely pace. The lunch/ dinner is not included in the price.
It was English/ Chinese tour, and the guides know really a lot, and told me when I asked. They are kind and friendly people. I recommend to purchase this tour.
Bulgaksa (仏国寺) (World Heritage Site)
First place in Gyeongjyu is Bulgaksa, a temple.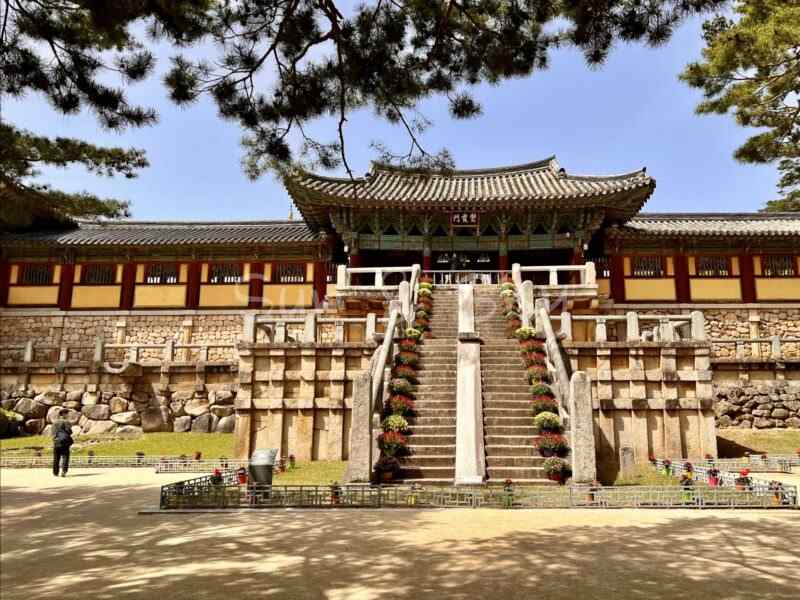 Even this tour is leisurely pace, some steps are steep stairs.
Lunch
We should tell them some thing communication tool, I did as WhatsApp. The lunch is not included the tour, but one restaurant was booked. A guide send me 4 menus, to choose, but sadly I should not book, due to my stomach was not good condition.
I brought something to eat when I feel hangry from Japan, and I also had Banana purchased near of my hotel (Toyoko Inn Busan Seomyong) :).
It is another good point for me that I can eat what I like, sadly Korean foods are too spicy for me 🙁
It was already 3:00 PM, when we left from the restaurant.
Gyochon Village (校村)
There are several buildings what are originally built in Choson era. There is a rich family's house, school (originally it was settled in Silla era), and newly restored bridge (Woljeonggyo).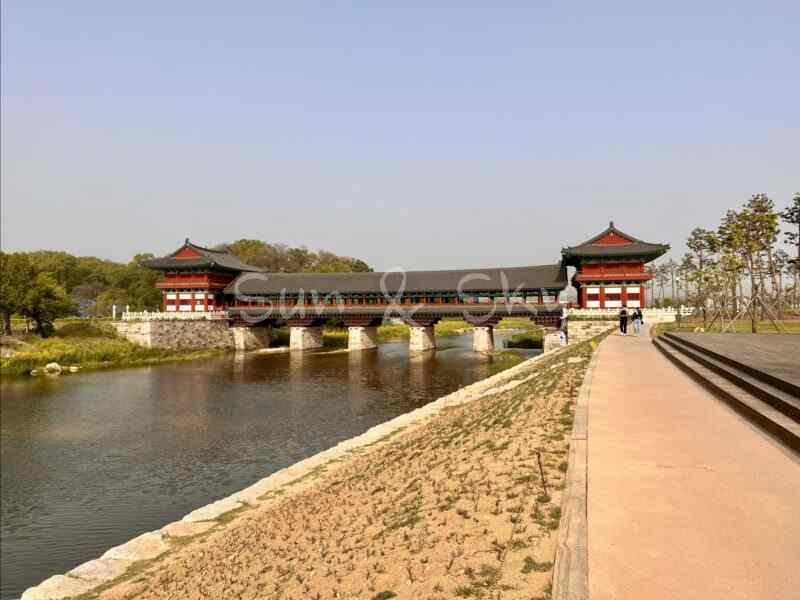 It is near of "Gyeongjyu World Heritage Site area". Seems no need to pay.
Daereungwon (大陵苑)(World Heritage Site)
If you understand the Chinese Chractor of "陵" it is clear what it is. It is a Tomb area for Silla royal family.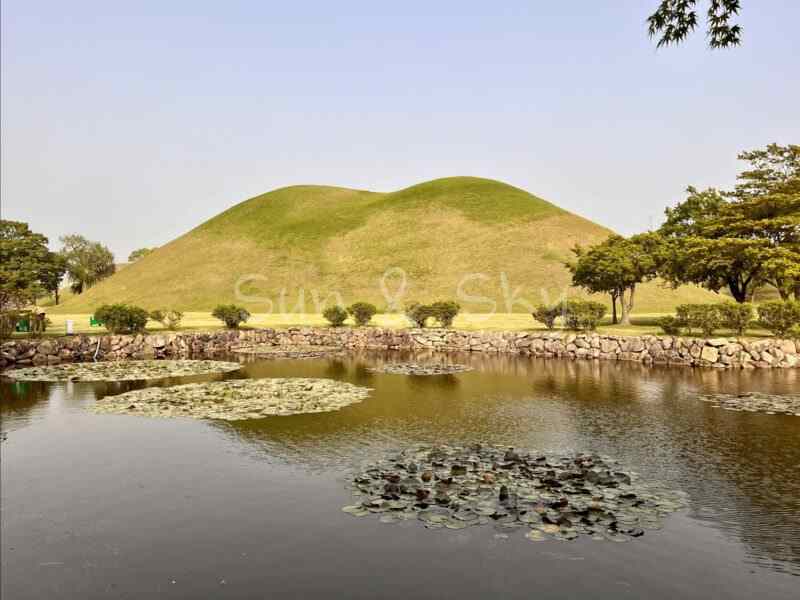 The picture above is the biggest Tomb, and two hills means two people's tombs.
Also, we are able to go inside of "Cheonmachong" (天馬塚), there is a small museum to show reproductions. Original are in Gyeongjyu National Museum. I really wanted to visit there, but the air was not good (Yellow Dust), and seems the museum was closing within one hour. I thought there are local buses for locals & tourists, but sadly I could rarely see buses. I gave up to visit the museum.
Hwangridan-gil
In this tour, there are neither lunch nor dinner are included. Our next meeting time was 19:00, we were suggested to eat something in Hwangridan-gil.
In Hwangridan-gil, I was with other English speaking people who are joining the tour by alone, we ate Hotteok, a kind of cake.
Sadly I felt there are not only natural sweetners, but also with artificial sweeteners, I sometimes get diarrhea with artificial sweetners 🙁 Luckily less problem, probably because I got diarrhea in early morning, and probably what I ate were not "ready to go".
Donggung Palace (東宮) and Wolji Pond (月池) (World Heritage Site)
When I was alone, I rarely go to see night sight, it is for my security. But in this tour, I could see night sight of Donggung Palace.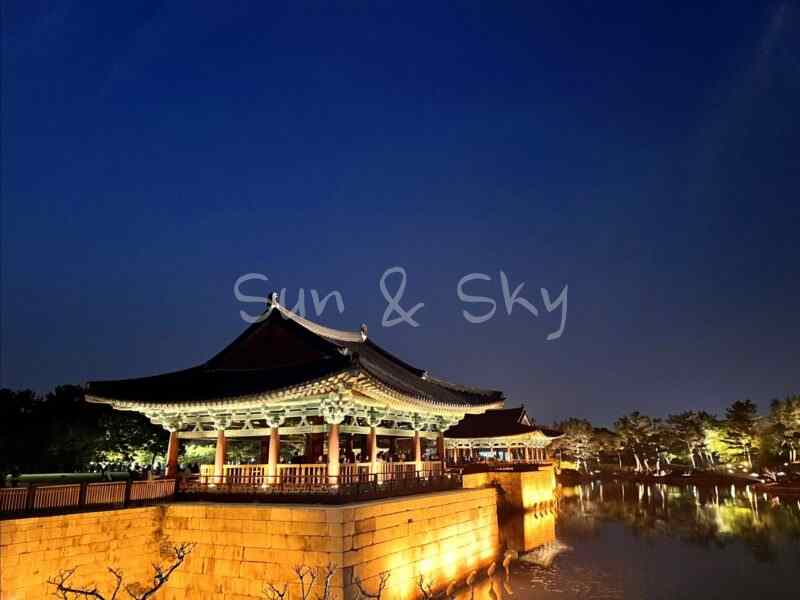 The buildings and the pond are restored. It was a palace for Silla prices and for visitors.
Totally to say, it is a leisurely pace, and I was satisfied with the tour.
Note
I need to describe few things, below.
Seems Korail Gyeongjyu station (not so much far from the World Heritage Site Area) is already closed. Korail New-Gyeongjyu station is far away from the Word Heritage Site Area, and seems we need to take more than one hour ride of a local bus. As of April 2023, I was in the tourist places, and saw several bus stops, but I rarely see local buses. It probably not so frequent.
Seems Busan-Gyeongjyu long ride bus brings you to a city center. I really want to visit Gyeongjyu National Museum someday. Probably I should walk to go to the museum from the long ride bus terminal.
I rarely feel sick from riding cars, I need to note that Korean highways is not smooth like Japanese highways, I felt as if we were jumping. When you often get motion sickness, I strongly recommend to take your motion sickness relief/ antiemetics.