In Dec 2015, I went to Yehliu Geopark to see stones.
I went to there by bus from Taipei (I will tell you later), after the long riding, and waiting for long cue to buy a ticket, and walked narrow pass with the crowd, it was a cold and almost rainy day, I felt strange with thinking it was a bad idea to visit. Indeed after seeing this site, I changed my mind.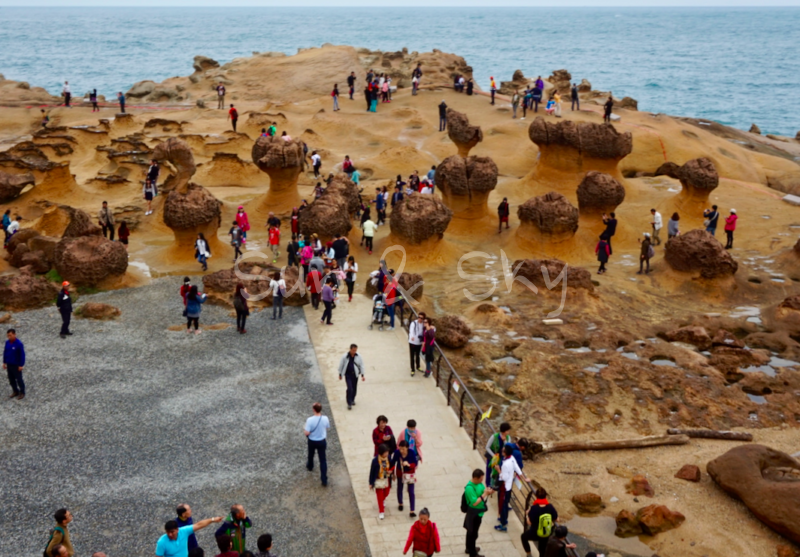 WOW! Full of super strange shaped stones. There is a peninsula where the geo park is located, and the stones area is not only this site, but also in other area too, this park is not so small. Visit there to see by your eyes.
And seeing this wild sea, I felt better.
In this Yehliu Geopark, there is the famous "Queen's head", truly this is "beautiful", the beauty of short living. There is a guard not let people touch, but so many people are trying and doing to touch the head, and the wind, sand, and drop of water (by rain and wave) are timing her thin neck.
Her head is almost cut down.
It is art of Nature.
There are so many stones with wired shapes, but they never keep their proportions as they are. It was 2015 I went, and it is 2018 I am writing about, probably all of the stones are changed (a little) by Nature.
There are red lines it means you should not to go, one reason can be due to keep this environment, and the another reason may be for your safety, I suggest.
It was a light rainy day, when I was in there there were no rain drops, but the ground was wet. It was slippy.
I know some ladies wear sandals in these place, the other wear high healed shoes. In  my experience, both are not good idea. I recommend to wear your sneakers.
In this small port area of "Yehliu", seems there were some eating place.
However, I was not good mode to eat seafoods, and actually I do not want to eat seafoods when I am out of Japan.
There were stands selling fruits or Taiwanese Tea, black sugar and some Taiwanese treats, they are "Typically" Taiwanese tourists site, guess there are no special things in there. Probably they are pricy, I never say do not buy things in there, but I also say, I had not bought anything in there.
The way to go — local buses are cheap, but it was the long and winding road
I took a local bus from centre of Taipei, it was Taipei Station, but due to the bus terminal charging, it can be easy to getting the bus in the Taipei City Hall Bus Terminal, it is quite near from the City Hall subway station. It took less than NT$100, but take one hour and a half. I say it was  a local bus.
As a Japanese, Taiwanese buses are wild drivers, and also the road condition is not wonderful. I rarely feel motion sickness, but not a fantastic experience.
The bus stop was not in front of the Geopark, I walked 5-10 mins.
In my way to Taipei city, I took a bus to Keelung, and changed to the Railway back to Taipei. It also took one hour and a half, but I prefer taking trains more than buses.
In Keelung station, I saw a bus sign to Jiufen, another Taiwanese crowded sightseeing place, I was too tired to go. After experienced to Jiufen, I am thinking I was smart not to go with the tired body.
You can visit there by yourself, it is cheaper. But do you read/ speak/ listen Chinese? I read not perfectly, but I read, and I speak & hear Chinese a little bit. There are many English speakers (even Japanese speakers) in Taiwan, and people are kind. Indeed I do not count there are always kind people (actually they are, but I can never promise you).
Also it was the first long riding of the buses in Taiwan. I did expected it was long way, but I had not expected it was so winding both from Taipei, to Keelung. Exactly "The Long and Winding Road". I was so tired.
And time. Taking local buses are fun, but in such destination, it is not always wonderful solution.
If you have less time to spend in Taiwan, there are some optional one day/ half a day tours what are with reasonable price. You have no need to worry about where you should get off, and for many, you have no need to be on the line to buy the tickets.
If you do not mind sharing bus and brought by a guide, this 8 hours English tour is almost US$40, and affordable.
Kkday Day Tour from Taipei: Jiufen, Yehliu, and Shifen
If you wanna be alone, this private 8 hours tour is also affordable.
Kkday Private Day Tour from Taipei: Northern Taiwan