In April 2015, I arrived at Pudong Airport, Shanghai, at midnight. I knew there was a hotel located in the airport terminal, and that's why  I decided to take that plane, and stayed at Da Zhong Pudong Airport Hotel Shanghai (上海大众空港宾馆).
agoda Da Zhong Pudong Airport Hotel Shanghai
I had thought Ramada, what I need to take a shuttle bus.
agoda Ramada Plaza Shanghai Pudong Airport
But even though I arrived at midnight, it took me an hour to get through immigration and pick up my luggage at Pudong Airport, so I thought spending a night at the airport hotel was a good solution. I felt I was smart 😛
Hotel
Some reviewers said that it takes time to check in even at midnight, but fortunately, I didn't have to wait. I needed to pre-pay a deposit, and used my Union Pay card to do so.
The staff members looked a bit like robots, but the price (US$80 per night, breakfast not included) and the location were good.
My room
My room is here, a standard room in North. It is far from luxury, but as a modest and simple person myself, I found it pretty enough.
There was no smell and the room was much bigger and cleaner than I had expected. It is in a convenient location, and cost just US$80 per night.
It was very late.
There was only a shower, no bathtub, but that was okay. But just like the other hotel in Shanghai city centre, the amenities did not smell too good.
But they were nice and clean.
I slept like a log, and didn't notice any noise. Airport hotels are convenient, but I have stayed in some which have been noisy late at night and early in the morning.
I did not buy breakfast in the hotel, because I had read some reviews that said the hotel's food wasn't great.
I would stay in this hotel again if I needed to arrive at Pudong Airport late at night, or to leave early in the morning.
Location
It was easy to find the hotel. If you go to Maglev station and you will also find the hotel.
See also: Shanghai Maglev
There are two buildings: North (annex) and South (main). They are different buildings; it seems you can check in in either, but you need to go your own side. Check which building you booked.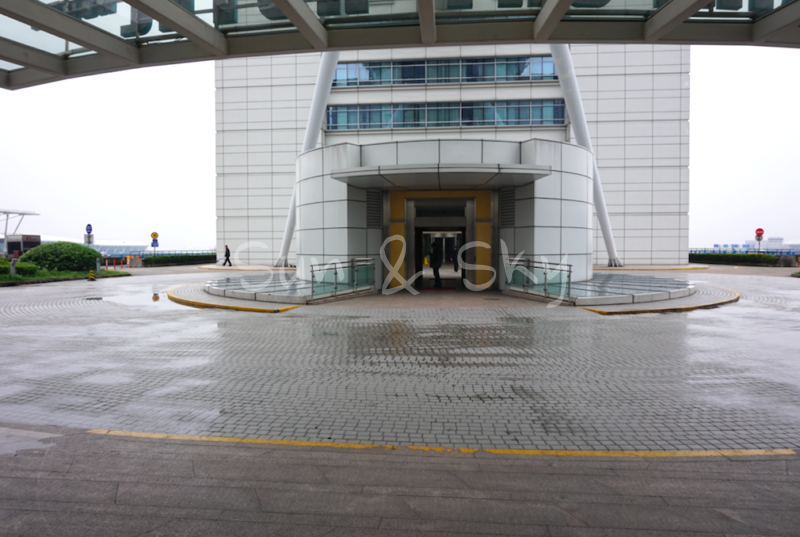 In the picture above, there are two buildings. The centre one, the round one, is an elevator which connects to the Maglev station floor, and the building behind the elevator is the South building. And I am standing in the North annex building.
There is no roof between the hotel buildings to the elevator.