In June 2017, I stayed at Hotel Nikko Narita. It is old, but not bad as a transit hotel.
See also: Nikko Narita Hotel
The bad point was that their shuttle bus was crowded, so some customers had to be left behind. In November 2017, my flight was earlier than in June, so I was a little bit worried. But if you don't manage to get a seat on the shuttle bus, you can take a taxi instead. This will cost you around ¥1,000 or something.
I decided to travel by train instead of by shuttle. I searched hotels near Keisei Narita & JR Narita stations.
There were a few to choose from, but  I selected Comfort.
I considered Mercure, Comfort and Richmond, but due to my budget, Mercure was out, and as I generally like Comfort more than Richmond, I chose that hotel. I know that APA is the nearest hotel to Keisei Station, but at the time their prices were too high.
It's important to be aware that Comfort Hotel Narita is a non-smoking hotel.
agoda Mercure Hotel Narita
agoda Richmond Hotel Narita
agoda Comfort Hotel Narita
agoda APA Hotel Keisei Narita
It's important to be aware that Comfort Hotel Narita is a non-smoking hotel.
At the hotel
This Comfort hotel was only built in this decade, and has a non-smoking policy (this is often the case in  newly-opened hotels), which I liked.
I chose a "Hitsuji Room", which translates as "sheep room"; this means it is a quiet zone. It cost US$80 a night. The room was located on the same level as the reception desk (2nd floor), and there are drinks facilities by the door. I remember that I needed to go to another floor to use the coin-operated laundry and drier, but the breakfast canteen was on the same floor as my room, which  was convenient.
The staff were very  kind (this is typical of Japanese people).
My room
Here is my room. The sheep show that this is a "hitsuji room".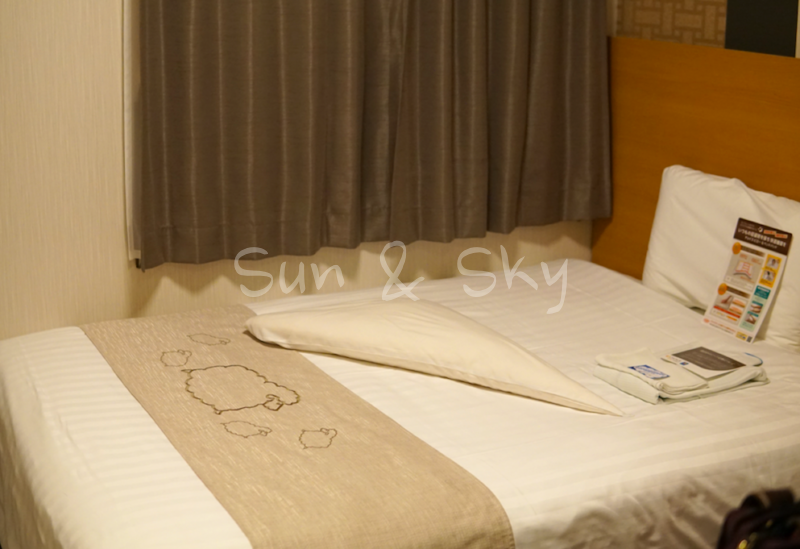 The hotel provides you with a free bottle of water. And remember, we drink tap water in Japan, so we need to pay attention when we are out of Japan. As you know, most countries have tap water that is not safe to drink.
There is an air purifier & humidifier (white machine, bottom right).
The bathroom is in typical Japanese hotel style of this class.
In the picture above, the toilet is situated on the left.
Breakfast
I have not stayed in a Comfort hotel in any other country, but in Japan, they serve free breakfast. It is not brilliant. It's free. If you have to skip breakfast, you won't have missed anything.
Location
Raised Walkway
There are two stations: JR Narita station on the left, and Keisei Narita on the right.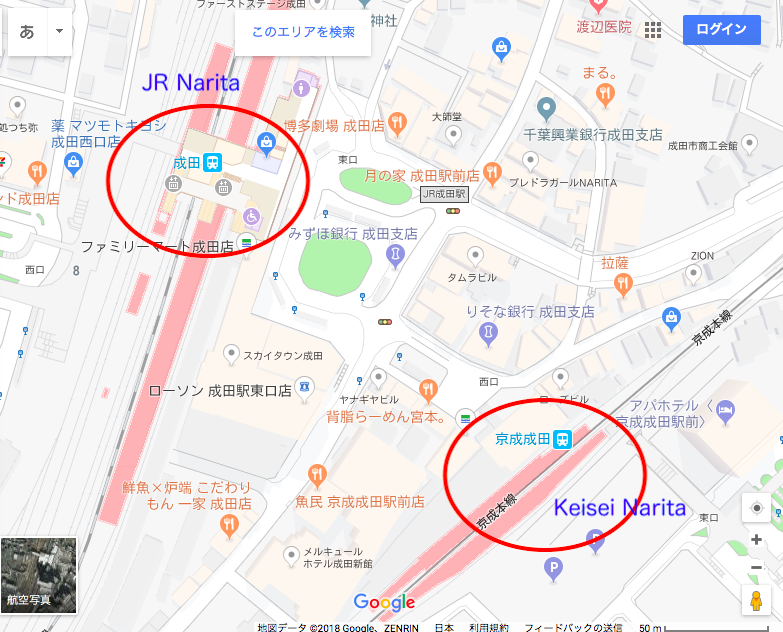 I am not sure whether they are connected to each other. I think this Keisei station must be on a hillside, and the East Gate, the Comfort Hotel side, is elevated.
To get to the hotel, come down from the raised walkway. When I arrived, it was too dark to take a photo, and when I left I was in too much of a rush! There are screenshots from Google Street View.
The centre is the Keisei Station.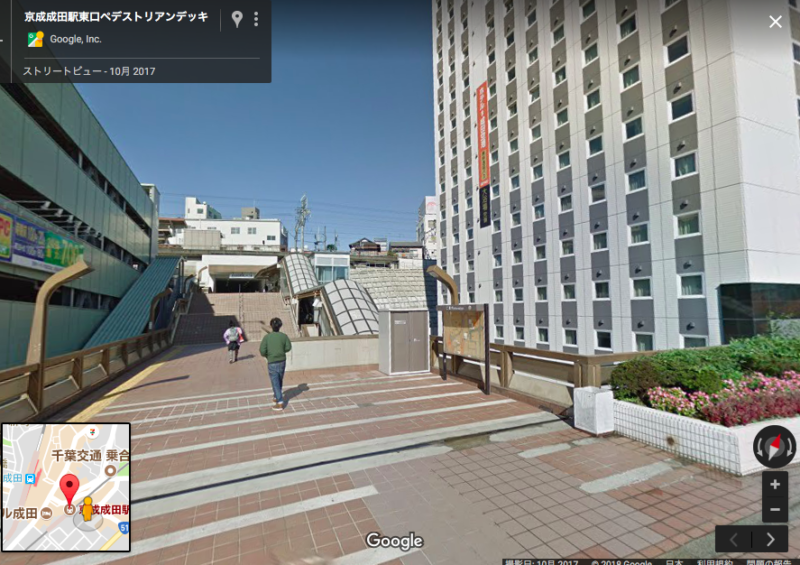 From the position and then 90 degrees, the centre is this Comfort.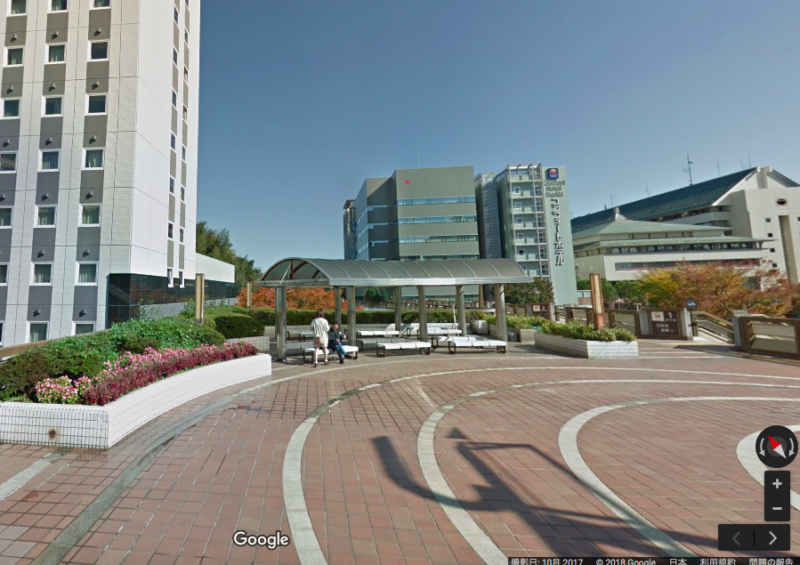 PLEASE do not take this raised walkway to the hotel, if you have luggage.
On the left side of the shot below, there are steps from this raised walkway: this is the only way to come down in here.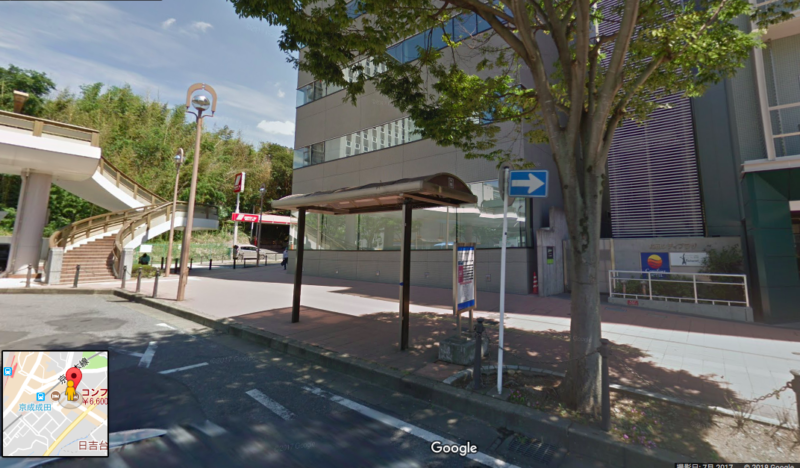 From the station, try to get down the ground walkway as soon as you can, as the station has an elevator and an escalator – both of these options are much easier for tourists like us who have luggage.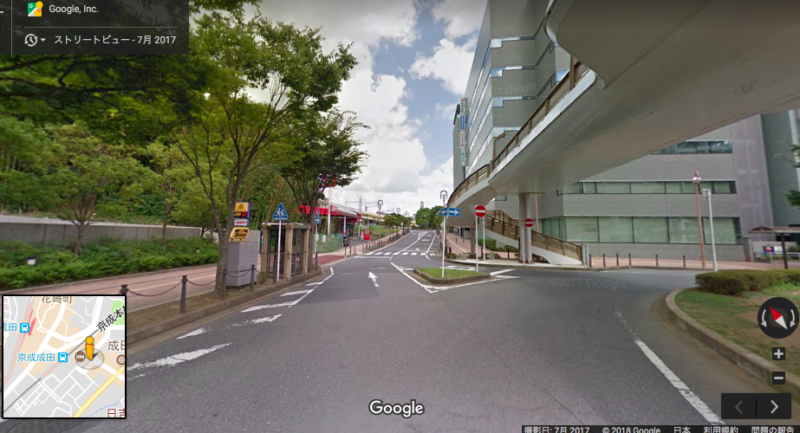 The left back is the station, and right is the block of the Richmond and this Comfort.
No shuttle bus service, take train to/from this hotel
I took the Keisei line to get to the hotel and Narita Airport. It wasn't bad, and I didn't need to worry about there not being any seats on the shuttle bus. But it was a November morning, so I must admit it was a little cold.
This Comfort Hotel does not provide a free shuttle bus service, but Richmond is in the same block and does provide a free shuttle bus:, I think it can take you to the airport in the morning, and bring you from Narita Airport at night. Both Comfort and Richmond are in the same price range, so Richmond may be a more convenient option.
This Comfort Hotel does not serve free shuttle buses, but in the same block, there are Richmond, and they serve free shuttle buses, seems in morning it brings you to the Airport, and at night it brings you from Narita airport. Both are the same price zone, it can be more convenient than this Comfort.
agoda Richmond Hotel Narita
This shuttle bus service is provided by Richmond, and it is only for guests staying in Richmond. If you are staying in Comfort, you cannot take this bus. Be nice.