In April 2015, I went to Shanghai. I stayed the city centre of Nangjin Road East, near of the Shanghai Bund.
From the Pudong Airport, I took Maglev to go out.
On the morning, I bought an IC Transit card and I could take a ride of the Maglev. As of April 2018, you can use the Transit Card in your Apple Pay.
See also: Shanghai Transit Card
My Hotel, Da Zhong airport hotel is located quite near of the Maglev station, it was so convenient for me.
See also: Da Zhong Pudong Airport Hotel
There are no Reserved sheets, you can take any sheets as vacancy.
Unlike Japanese stations, the gate was not opened before it was allowed. I needed to wait out side of the station. I remind it on Taiwan Highspeed Railway station.
With the big noise, the Maglev came into the station home. After few mins later, many guests were coming to outside to leave, finally we can go into the station home.
On the station home, there are secure guards, and as I remember, there is also luggage security point in front of the gate.
Everything is different from Japan, but I had thought I am living the safety place. Indeed we also had a suicide bomber in Shinkansen, Super Express, these security systems can be important for our future.
On my car, I took a sheet without thinking anything, it was really empty.
After the Maglev started to run, I found the reason: this car is moving to backward. I found the sheets are not for both sides sheets, I tried to find something switch to turn the sheets, but I could not find. Probably they do set the sheets directions, and can be both sides, and it can be different in the each cars.
Anyway, as a Japanese, this sheets are not so much fancy, even comparing with AEL in Hong Kong.
See also: Hong Kong Airport Express
But the speed.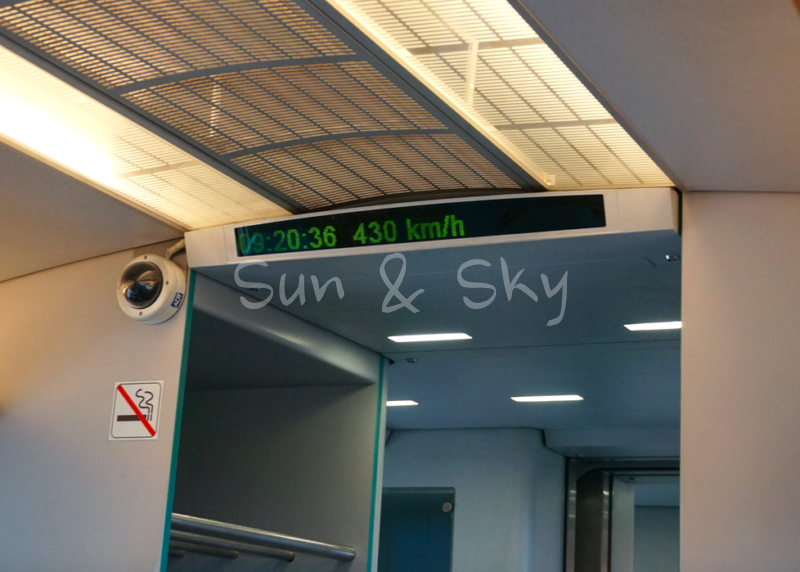 It was not my first time to take a sheet in Maglev, long ago, I had experienced in Nagoya, Japan. But the speed of 430 km/h in the ground is the first time.
Excited to see the frontier of Shanghai.
I arrived at Longyang Road station (龙阳路) soon.
I changed the trains to Subway 2nd line, the light green is its color.
I also needed to take a security check. I took a hotel along side of the 2nd line, it was the good solution. Whenever I change the lines, I needed to take a security check, as I remember. When I have a cross body bag and a shopping bag, there are less problem, but when I would be with a small Samsonite suite case, it would be a little bit annoying solution to take subways.
The price is RMB50 without the IC card, and with IC card, it is RMB40. But seems if you have arrived at this Airport by planes and leave by Maglev in the same day, it is RMB40 without the IC card. I had arrived at the Pudong airport after 01:00 AM, and wanted to leave on 08:00 AM. Seemed it was calculated as arrived at the airport on yesterday, and leaving today. Indeed I had a plan to use the IC card for my stay, I got a discount as the IC card user.
By the way, on my way back to Japan, the flight was from Hongqiao Airport, smaller but near of the city centre, I did not take Maglev in my back way.