What is Great Firewall of China?
It's a well-known fact that Mainland China has a "Great Wall" on the net. The Great Firewall of China is part of the Golden Shield Project.
The original "Great Wall" was built to defend against attacks from "Barbarians". Here's a photo of this Wall from Agoda.

agoda Commune by the Great Wall Hotel Beijing
It is a huge physical wall, but now a Firewall has been built to "prevent" nationals from "harming national security, public order, social stability, and Chinese morality". This is NOT the time to discuss whether the fact that this Wall and the Golden Shield Project exist is fair and acceptable or not.
Because, whether it is acceptable or not, the wall currently blocks users' connection to sites like Google, Facebook, Twitter, etc.
I regularly use Gmail for my business, Facebook too, and Twitter is a big part of my life for chatting with my online friends. When I travel, I often like to use Google Maps to help me find my way around.
There are some VPNs that you can use to 'climb' over the Wall, but they are not always stable.
Solution: Hong Kong prepaid roaming SIMs
I chose to roam using HK prepaid SIMs when I was in Mainland China (so far Guangzhou and Shanghai). This is still one of the best ways for foreign tourists like us.
You can also rent a pocket WiFi in order to 'climb' over the wall. Ask your airport origin about how you can get hold of one when you arrive in Mainland China. When travelling by road/rail, people in Hong Kong use roaming SIMs.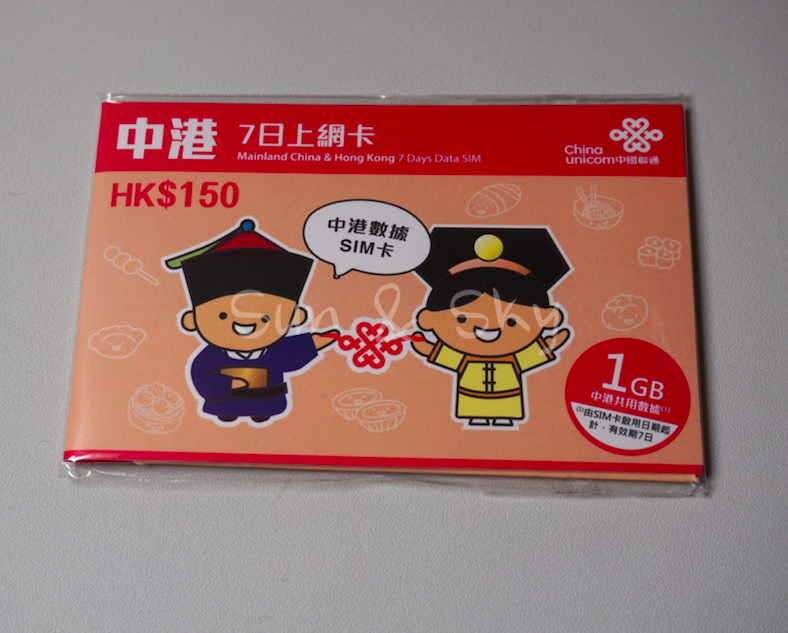 The picture above is China Unicom 3G/ 1GB data card, I had used in Shanghai.
Here is the newest version, 5G/ 5GB data card, I used in Macau, 2019.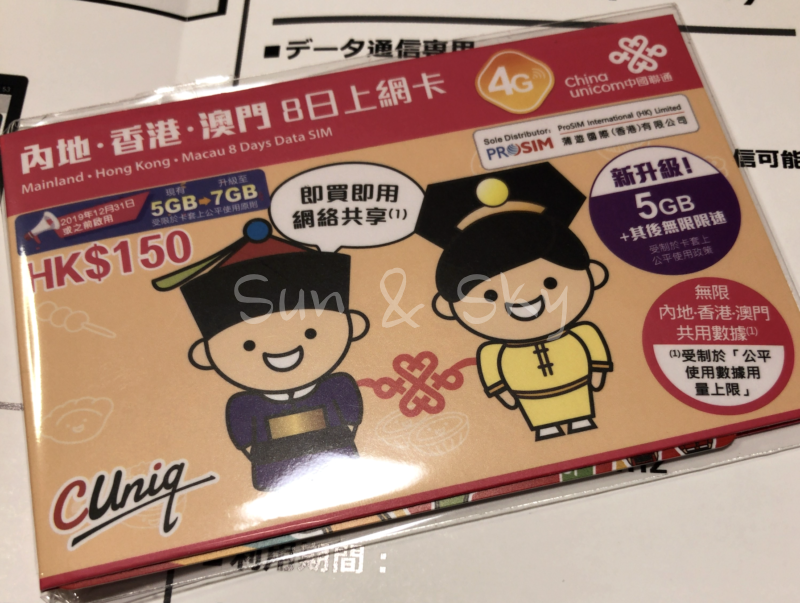 Please see also: MO SIMs covering HK, Macau, and Mainland.
Some SIMs have already been discontinued. They changes quickly, but there are many other SIMs.
Hassle-free connection to your own SNS account — Roaming using Hong Kong SIMs
I used prepaid roaming HK SIMs.
I bought mine in HK, but you can also order them through Amazon.co.jp (I am a resident of Japan), or other Amazon stores.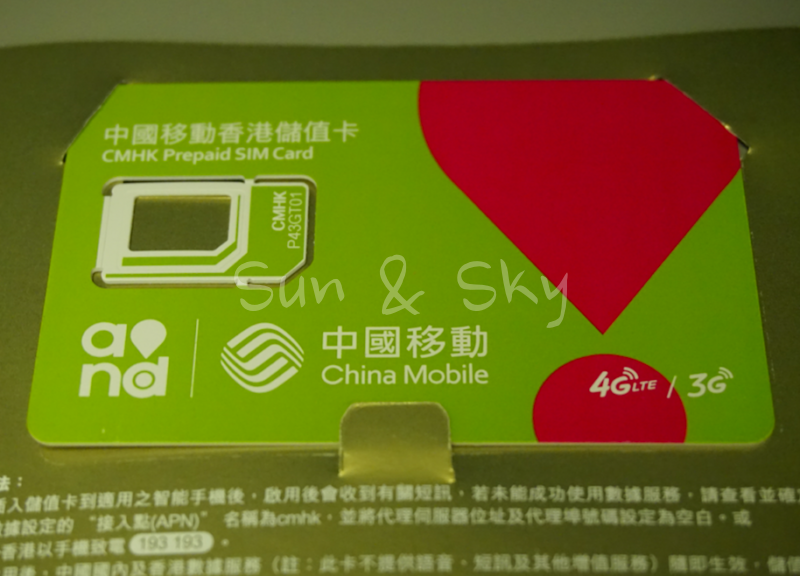 Checklist before buying a HK SIM
Just think about the following  factors:
Is your smartphone unlocked? ― Someone I know brought her tablet and HK SIM with her from Japan, but sadly she found that her tablet was locked to its network – she'd forgotten to unlock it. This can happen to anyone, so be careful!
Do you know the frequency bands for your unlocked phone (will tell you more about these later)? This is easier if you have an

 

iPhone.
Check the price of a HK SIM ― you also need to find out whether they ship to where you are, and don't forget there will be a shipping charge.
Check the roaming charges for your home network ― in the case of Japan, the roaming charge is generally higher than the price of a HK SIM.
If the price of a  HK SIM is cheaper than your roaming charge, it's a good idea to buy one.
Frequency Bands
Chinese Frequency bands are really "something", especially 3G.
There are three major mobile networks in China.
3G
China Mobile:TD-SCDMA(Band 38, 39, 40, 41)
China Unicom:W-CDMA(Band 1,8)
China Telecom:CDMA2000(Band Class 0, 6)
4G
China Mobile:TDD-LTE(Band 34, 39)
China Unicom:LTE-FDD(Band 1, 3, 8, 40, 41)
China Telecom:LTE-FDD & TDD (Band 1, 3, 5. 26, 40, 41)
・中国移动(wiki中文)
・中国联通(Wiki中文)
・中国电信集团(Wiki中文)
China Mobile and China Unicom have branches in Hong Kong, and what I am saying concerns their SIMs and roaming.
Make sure you check that your phone is able to connect to their frequency. If your phone, like mine, is from Japan, you'll rarely be able to get it  to work with TD-SCDMA from China Mobile. When I visited Shanghai, perhaps due to the location, my China Mobile HK SIM wasn't catching the 4G frequency at night, and wasn't grading down to 3G either because my phone was not working with TD-SCDMA, but 2G instead. Super slow.
Compare your own network's roaming plans to what you might find in China. Sometimes your own network's plan may be cheaper. Mine was  more expensive, and that's why I bought these SIMs.
SIMs
I had no need to set up both China Mobile HK and China Unicom HK to use my cellphone.
As I mentioned, the China Mobile 4G SIM was not catching 4G frequency at night, and dropped down to 2G instead. With the Unicom one, however, I had no problems.
My friend, who lives in Mainland China, uses a HK postpaid roaming SIM, says that China Mobile often goes into shutdown when there are "political events", whereas  China Unicom is rarely down.
As an independent traveller, I think I may buy both for my next vacation to Mainland China.
Thai SIM, SIM2Fly by AIS
As of July 2018, there are Mainland China in AIS SIM2Fly round Asia plan.
I have used this SIM2Fly in Japan, South Korea, HK and Taiwan. It is my regular SIM to travel over Asia.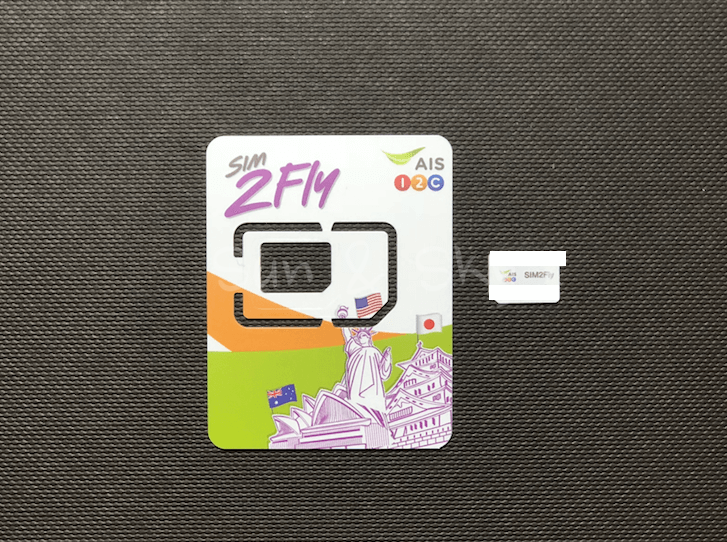 They allow us to climb over the Chinese Firewall, to use your SNS. This SIM catch the wire of both China Unicom and China Mobile.
I have not used this SIM in Mainland China yet, but it may work well.
See also: AIS SIM2Fly